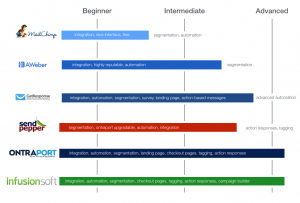 Choosing the right autorepsonder for you email marketing efforts can be a complex effort.
It doesn't have to be, however.
While there is no shortage of email marketing providers in the market, there are only a handful that will actually serve you the best in your business.
Understanding the difference between the platforms can be the difference between major profits or major pain in your business.
It can be very hard switching platforms once you get started so it is very important that you start off with the proper platform.
In this post I will make the decision making process fairly easy and straight-forward for you. This post will layout the most important features that should dictate your decision process. The criteria I will be using to rank each autoresponder will be based on:
Integration – how well it integrates with other 3rd party solutions
Segmentation – ability to send highly targeted emails
Automation – perform functions based on subscribers actions
First lets discuss the 3 factors you should take into account when deciding on an email marketing platform.
3 Factors To Determine the Best Autoresponder

Email autoresponders come a dime a dozen nowadays and it's really easy to get distracted by features that aren't as important as others. For that reason I have created 3 factors that you can use as a guiding light when picking the right autoresponder.
Credibility
How long the company has been in business is a HUGE factor to take into account. The longer the company has been in business the better rapport they have built with ESPs like Gmail, Hotmail, and Yahoo.
This simply means that the probability of your email getting marked as spam will be greatly decreased by sending emails from their server.
When picking an email marketing platform look for how long a company has been in business first. Don't choose any provider that has not been in business for at least the last 7 years.
Deliverability
Perhaps this is the most important specification when deciding which platform to go with.
The effectiveness of your email marketing efforts will be greatly dependent on your ability to land in your subscriber's inbox. A company that has been in business for a while will have pretty good deliverability. However, you want to browse around their site and ensure that they promise at least a 99% deliverability rate.
Increase your deliverability by choosing to have all your subscribers double-opt in.
User Interface
This one is often overlooked but you can tell a lot about the quality of service to expect from the quality of a service provider's website.
If the website is unappealing and hard to navigate before you sign up, chances are creating and sending emails will be a clunky process. Ideally you want a email marketing service provider that has a nice, clean, and modern design with Drag N Drop capability.
This will make creating newsletters and html based emails a breeze and make sure your not distracted by the tool itself. Most email marketing service providers offer a free trial or a 30-day trial fairly inexpensively.
Sign up for a free trial and test drive their dashboard before you make a final decision. If you can't figure out the interface, more than likely you will end up paying someone else who does.
How Deep Do You Want to Go?

Now that you understand the 3 main factors to take into account when choosing an email marketing platform, the next question you need to answer is how targeted would you like to get with your marketing.
The level of depth you would like to go with your marketing will heavily determine which platform will suit your best for your business. There are really 3 levels of email marketing to understand. Below I have defined each level for you to be able to easily identify where you fall.
Beginner
A beginner level email marketer is building a list because it was advised. They don't really have a strategy for utilizing email marketing and do not know how to effectively grow their email list.
If they do have a list they are only using it to send broad email newsletters to their entire group without any segmentation.
Tools I recommend for beginners (my preferred tool in bold):
GetResponse*, Aweber, MailChimp
Intermediate
An intermediate email marketer has a list and a strategy. They use email marketing to make and increase sales in their business. Their emails are usually not very targeted, but they do use segmentation at a fairly basic level to produce the desired results.
Intermediate marketers also have their autoresponder integrated with other 3rd party platforms to increase their conversion rates and get the most out of their email marketing efforts.
Tools I recommend for intermediate marketers (my preferred tools in bold):
GetResponse*, Sendpepper*, Aweber
Advanced
Advanced email marketers send very targeted emails. They use segmentation (and/or tagging) to help determine the hottest leads in their funnel. They understand the importance of being able to measure the actions of every lead in their funnel with great resolution.
These marketers more than likely are using a CRM + email marketing platform to integrate all their marketing tools into one resource to maximize their profits and scale their business.
Tools I recommend for advanced marketers (my preferred tool in bold):
Ontraport, Infusionsoft*
Your Takeaway
So there you have it. The most straight-forward criteria in which you can use to select the email marketing platform that will best suit your business needs.
There are many other reputable services out there that I did not mention and that does not mean that they are not good. From an online marketing perspective the tools that I have mentioned in this post have been personally proven to me that they work and are some of the best options (if not the best) on the market today.
If you have ever found yourself confused on which platform to use you can always utilize my complimentary Automation Audit where I can help you figure out the best option for your specific business needs.
Is there an autoresponder missing from the list? Let me know in the comments below…
Ready To Become A Marketing Automation Insider?
Join hundreds of entrepreneurs and digital marketers who receive monthly tips and strategies on how to leverage marketing automation delivered straight to their inbox. Never miss an update and stay "in-the-know" with this emerging space.