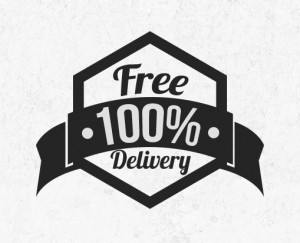 The best thing you can to start and grow your business is to build your list.
If you're unfamiliar with the term, building your list is the process of collecting email addresses (at minimum) of visitors who have the potential to become customers.
The most common practice is to use a highly valuable piece of information in exchange for a visitor's email address. Once they agree that what you have to offer is worth their email addresses they will be successfully added to your email list.
Once they are on your list, you can now focus on building relationship with them and easing any objections they may have about moving forward and taking whatever action you have set.
Pretty straight-forward right?
Just to make sure you get it, I've compiled 3 methods to do this effectively. These aren't just any 3 methods either. These are the only 3 methods that actually work.
I can assure you that not only are these 3 methods highly effective. But they are also being used by multi-million dollar marketers and business owners as I type this.
Allow me to break these 3 methods down for you.
There are three steps when it comes to building your list online:
Generate – Put your offering in front of as many prospects as possible
Convert – Accept as many prospect's information as possible
Fulfill – Deliver your product to as many prospects as possible
This post we will focus on #3, delivering your product to as many prospects as possible. For the sake of clarity, when I say product I am referring to any resource that can be delivered digitally (ex. ebook, audio series, video training, etc.)
It is important that what takes place immediately after a visitors provides their information is seamless. They may already be skeptical and any error in the delivery process could be highly damaging to your conversion rates.
To prevent that, stick with the 3 methods that I have outlined below.
Double Opt-in
This is the safest way to build your list. With double opt-in activated, you require your visitors to confirm they have access to the email address they provided. It also verifies you have permission to send them emails going forward.
This is called permission based email marketing and is the strongest method of the 3. Email addresses that have been verified through the double opt-in process will have higher deliverability numbers.
The overall process of a double opt-in can be found in the image below.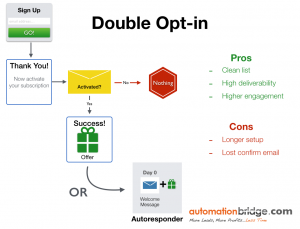 With the double opt-in you can either deliver your promise on the Success Page or in the autoresponder Welcome Message. Both will be accessible to your new prospect once they have confirmed their email address.
Pros – Clean email list, higher deliverability, higher engagement
Cons – Takes longer to setup, some visitors may lose the confirmation email (depending on how fast they check their email)
When to use it: As often as you can. I recommend you use double opt-in for building all of your lists.
Single Double Opt-in
This is a more advanced method. You deliver a portion of your offering after they submit their email address. But require them to confirm their email address to get the rest of the offering like a double opt.
It's best used when you have a bundled offer (ex. video with cheat sheet, ebook with extra downloads, etc). The benefits are the same as the double-opt-in, but you're using a piece of your final offering upfront to build momentum for your subscriber to confirm. I like this method because it builds momentum. Your subscriber is immediately awarded after every step they take.
The overall process of a Single Double can be found in the image below.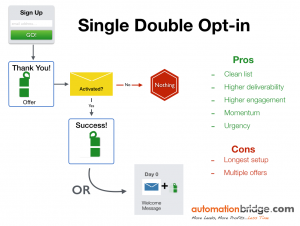 Pros – Clean email list, builds momentum, higher engagement, creates urgency for confirmation email
Cons – Takes the longest to setup
When to use it: When you have multiple offers, launching a product, running Facebook or Google Ads
Single Opt-in
Single opt-in is the process of delivering your offer immediately after they submit their email address (Thank you page). This is the fastest and easiest way to deliver your product. However, it comes with a price.
Since there is no way to confirm the email address of someone who joins your list via single opt-in, there is no guarantee that they will ever receive your emails. Furthermore, email marketing providers will often send emails to single opted email addresses from a cheaper, less reputable server which can drastically impact your deliverability.
The overall process of Single Opt-in can be found in the image below.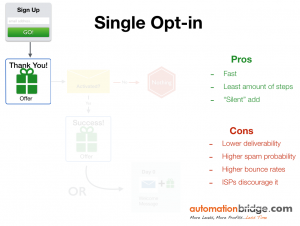 In other words…I don't recommend it except for some very specific cases listed below
Pros – Fast, least amount of steps required, adds subscribers "silently"
Cons – Lower deliverability, higher spam probability, higher bounce rates, ISPs discourage it
When to use it: Importing a clean list, adding a customer to your list once they have purchased a product, moving a subscriber between lists
Your Takeaway
So there you have it. The only 3 methods to deliver your products online. The general rule of thumb with online conversions is that you will never have 100% participation. The more you ask someone to do, the less your chances that everyone will do it.
This applies to both the Double Opt-in and Single Double Opt-in methods. However, that small drop off you may see in participation you can easily recover in increased engagement and higher deliverability. There's always a tradeoff.
Does your experience match what I've written? Or can you prove me wrong? Either way I'd love to hear about your experience or your questions in the comments area below.
Ready To Become A Marketing Automation Insider?
Join hundreds of entrepreneurs and digital marketers who receive monthly tips and strategies on how to leverage marketing automation delivered straight to their inbox. Never miss an update and stay "in-the-know" with this emerging space.