Funnel mapping software is an essential visualization tool for marketing online. It is more than important for automated marketing professionals (aka Automation Service Providers), it's critical. The importance of this type of visualization can not be stressed enough as it will save you countless hours spent trying to recall intentions of what was previously built. The purpose of mapping out your funnels is not to simply WOW clients and other marketing professionals, it's a clear representation of what's taking place in your business to be assessed and optimized.
In the past, it has been much more difficult to create this type of visualization. Many meetings resulted in what is called "Napkin Mapping" where a consultant would pull out a pen and grab the closest object to help them illustrate what they're saying. That closest object…a napkin. But now the process for visualizing your funnel has been made a lot easier. That's not to say it has been perfected, as there is still a lot left to be desired, but there are a few tools now that provide us with a solid foundation to build upon.

Funnelytics is probably one of the first names that will come up when searching for "funnel mapping software". This company is leading the way with brand recognition and acknowledgement among digital marketers. Birthed out of the ClickFunnels community, the CEO Mikael Dia, has really taken an idea, nurtured it, and built a strong company behind it.
It has come a long way from it's initial offering and they have added tons of new analytics to help you measure the performance of your marketing. One thing that I appreciate about Funnelytics is the ease of use. It has a flow chart functionality that allows you to quickly add objects and move them around the canvas.
To make your funnels look more visibly appealing they allow you to add a url to any page objects you've placed on the canvas and it will generate a preview of the webpage automatically.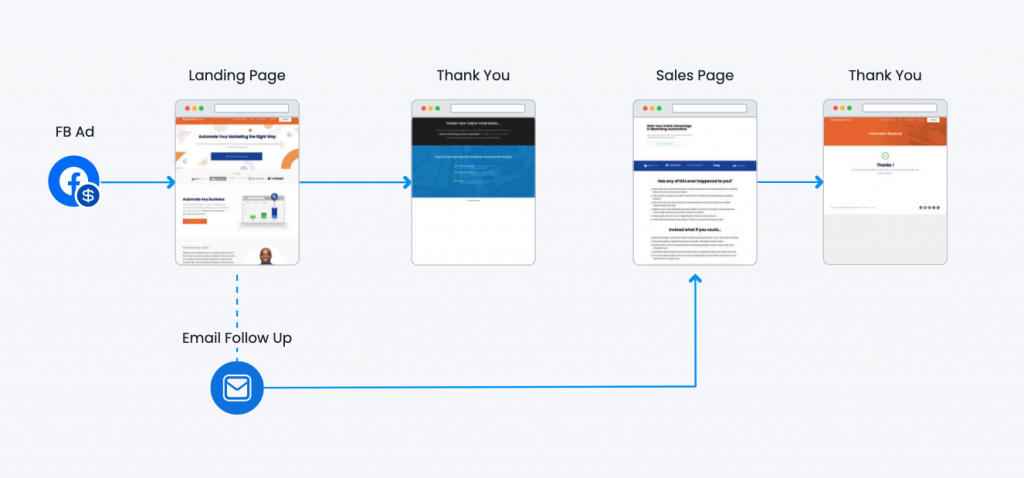 One of the mistakes that I made early with funnelytics is thinking that it also was for your logic. If you want visualization for your logic and automation…it's not for that. Funnelytics is purely a page mapping software to allow you to display how contacts move through your funnel. They have also added various analytics and reports (for their Pro plan and higher) that provides an additional layer of visualization of how your funnel is performing.
This, however, comes with a rather hefty price tag; especially if you didn't get in on their early lifetime pricing. Expect to fork out approximately $1,000 a year to get access to all of their features (and the price increases with the more contacts you track).

Geru is more of forecasting software than it is funnel building. It can easily be mistaken as funnel building software, because of the visual nature of it. It would be in your best interest to not mistake this for any form of funnel building software. Everything about Geru is purposed to help you simulate the performance of a funnel before you build it and/or test various scenarios with an existing funnel.
They're inverse of Funnelytics. Whereas Funnelytics' primary function is a funnel builder with analytics as an add-on, Geru starts with analytics and reporting as its core purpose and the funnel building is just a means to get to the analytics.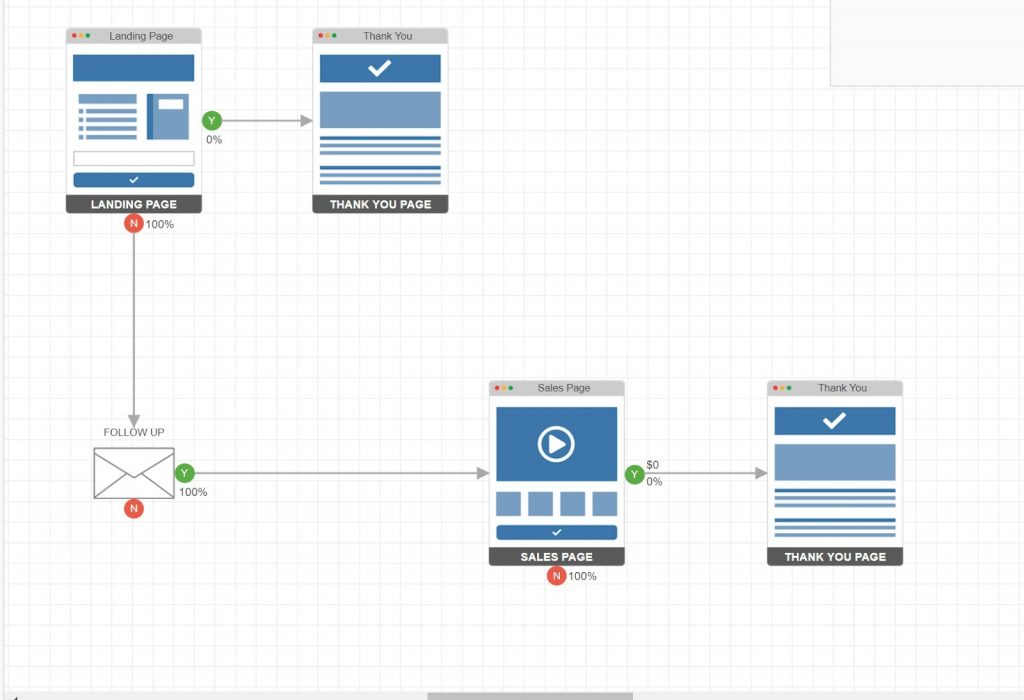 The image above is the same basic funnel sequence shown with Funnelytics, however, it was a lot more difficult to create as Geru requires that you put in data for every object. Again, analytics first…funnel builder second.
It is not as easy to use, nor as beautiful as Funnelytics, but if you're currently forecasting with spreadsheets and want a better, more visual way, Geru is going to be a great tool for you. As mentioned, it really shines in allowing you to provide various scenarios so you can find the best approach to marketing by way of simulation.
Pricing is a lot more friendly than Funnelytics as you can get their pro plan for approximately $700/year.

MarketPlan.io is the epitome of good intentions with terrible execution. They identified the missing element in both forementioned platforms, so it seems, but just don't know how to capitalize on it. They offer the funnel mapping, analytics, and reporting as the others but differentiate themselves with logic actions.
These logic actions include conditions, wait states, tags, and custom actions. Additional actions include Ad set, email sequences, blog planner, and more. Each action can be customized with content to allow you a one stop shop to build, plan, and measure your funnel.
Sounds perfect right? Wrong.
The interface is clunky at best and nothing seems to actually work correctly (at least not quickly). Adding objects and aligning them is practically impossible, generating screenshots of webpages doesn't work consistently, and things get ugly really quickly the more objects you place on the canvas.
The picture below took about twice the amount of time to produce than Funnelytics and was kept minimal to provide a clean presentation.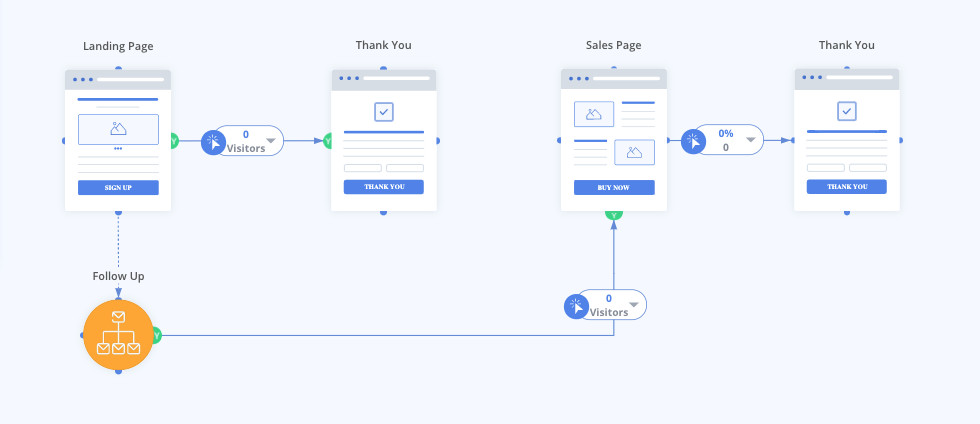 The price is right but the functionality is all wrong. Its poor execution leaves no room for any hope or anticipation of this platform ever being a true solution, unfortunately.
Closing Notes
This space is going to continue to evolve. In the future, I'll have a separate report dealing with flow chart software for logic mapping. That's a different building process and we want to make sure here at Automation Bridge that we explicitly draw the line so that you understand the difference between funnel builder and logic mapping software.
The solutions provided in this report do provide some promise (with the exception of Marketplan.io), but they are far from perfect. Funnelytics has the most active development and is integrated in the digital marketing community the most, but Geru provides more analytics, reporting, and forecasting.
No all-in-one solution for funnel building, reporting and forecasting yet, but hopefully that changes soon as it will greatly benefit digital marketing professionals in all industries.
Did we miss a tool? Let us know in the comments. If you have had a great experience or other experiences below, leave that in the comments below as well.
Ready To Become A Marketing Automation Insider?
Join hundreds of entrepreneurs and digital marketers who receive monthly tips and strategies on how to leverage marketing automation delivered straight to their inbox. Never miss an update and stay "in-the-know" with this emerging space.