Quizzes are everywhere…first made popular by Buzzfeed and now you can't seem to scroll anywhere online without the option to take one being presented front and center. This is why you should consider adding a quiz to your marketing tool belt. Quizzes are great for lead generation and segmentation. From a consumer standpoint, people love to take quizzes and find out more about themselves. For the marketer, it allows us to collect more data than a standard form would do and that in turn puts us in a better position to send more personalized messaging. In this month's Marketing Automation Report, we explore the top 3 choices in the quiz space and some others that should be on your radar.

Interact is a quiz-only software that lets you create Buzzfeed-style (personality quizzes that have a nice cover and eye-catching images) quizzes in no time. Because they only do quizzes, they have a ton of templates to choose from a plethora of industries. You will be able to get up and running quickly without even having to start from scratch. If you are stumped on what your quiz should have, then I suggest you browse their templates to get an idea. Customizing templates is quick and easy with just a few clicks. Interact is standalone, so you can use it on any type of website.

Quiz Types (Rank: 4) – They provide 3 types of quizzes: Assessment, Personality or Scored. You can easily switch between the style of quiz you like even if you have started designing your quiz.

Custom Results Page(s) (Rank: 4) – Interact provides custom results pages based on the person's answers. Each page can have images, text and links. Again everything is customizable to your brand colors and fonts. You also have the choice of showing multiple results by checking that option or you can redirect to another website. They also offer a way to "gate" the results so that a person will need to enter their name and email address. You can set it to optional or required in order for them to see the results.

CRM Segmentation/Custom Field Data/Tags (Rank: 5) – Interact integrates with over 35+ software solutions natively with hundreds more when using Zapier. You can map your custom fields, tags and even add contacts to a list right from the builder. I also like the fact that you can pass over each answer to a custom field if you so chose.

Visual Builder (Rank: 3) – Interact has a visual builder that is easy to navigate and put in the information you need (See below). If you want to visually map your conditional logic, you have the option of using the Branching Logic editor where you can see a bigger visual of the editor with drag and drop for each question. I wish that they would make their branching logic editor first choice instead of having to stumble upon it. Interact does not offer A/B Split testing within the editor, but you can make a duplicate of your quiz and tag it in order to do your own split testing.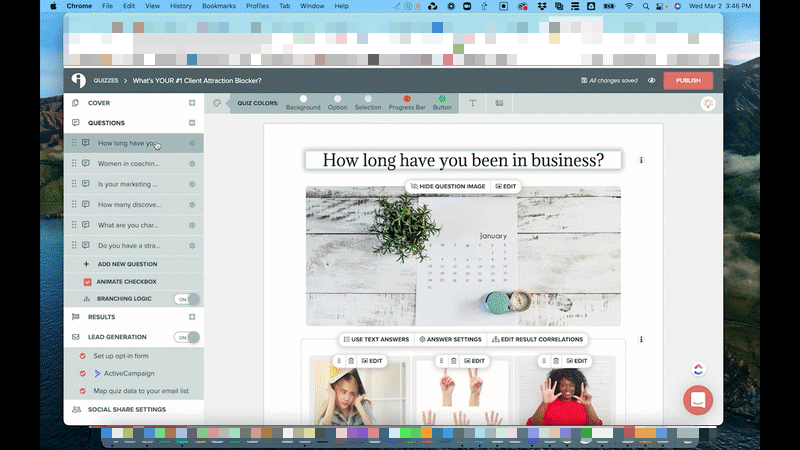 Overall
Interact has a ton of templates across a breadth of industries that make it easy to use if you are new to using quizzes and have no idea where to start. They have a directory of certified consultants to help you get started if the idea of building quizzes is overwhelming for you but you want to leverage the power of them. They have several tiers of pricing from $0 to $209 per month (at the time of writing this). You can save even more by paying annually.

Thrive Quiz Builder is a WordPress plugin that is part of a suite of plugins from Thrive Themes. Thrive Themes specializes in lead generation, so it only made sense for them to offer a quiz builder that integrates seamlessly with their other plugins and themes to help drive leads.
Quiz Types (Rank: 4) – Thrive lets you choose from 5 main types of quiz types: Number, Personality, Percentage, Right/Wrong and Survey. You also can build a quiz from scratch. The great thing about Thrive is that it uses their other plugin Thrive Architect (their drag and drop visual editor for WordPress), so you are able to use all of the templates and layouts available.

Custom Results Page(s) (Rank: 5) – Thrive offers custom results pages based on the user's answers. You can customize these pages using any color, font, images, text and any of the Thrive Theme components from their other plugins. Template types they offer are List Building Templates, Social Share, Customer Insights and starting from scratch. You can also add a "Opt-in Gate" (this is where someone would need to add name and email in order to see the results).

CRM Segmentation/Custom Field Data/Tags (Rank: 4) – Thrive let's you integrate with your CRM seamlessly. You can pass quiz results through a custom field, add to a list and add tags. The only thing that would be nice is if you wanted to map each answer that a person chose into a custom field. But all of that can easily be seen in the survey dashboard in WordPress.

Visual Builder (Rank: 5) – Thrive really excels with its visual drag and drop builder for your quiz. It easily lays out and lets you connect and do branching logic directly on the canvas (see below). No clicking over to other screens. It's easy to go in and change branching logic even after your quiz is live. They also have A/B Split testing built into the editor with the ability to automatically pick the winner of your test.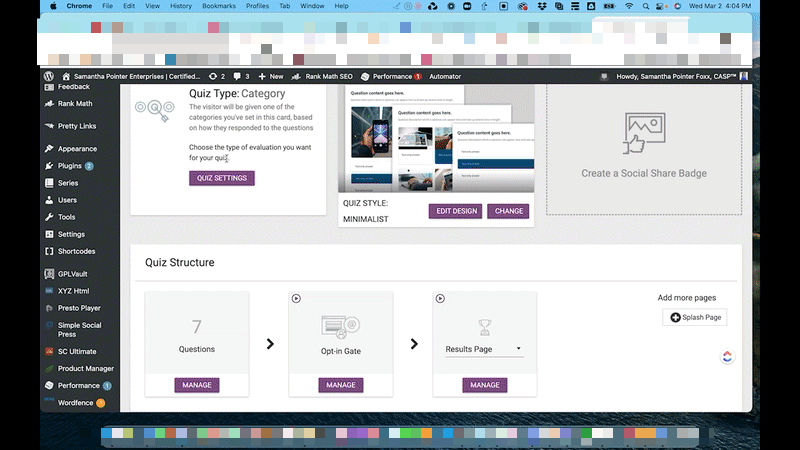 Overall
If you have a WordPress website and want a visual quiz builder that makes it super easy to get an attention-grabbing, highly shareable quiz up and running, then Thrive Quiz Builder should be one to look at. Because they specialize in lead generation they have all of the built-in features for generating leads and tracking. You can get Thrive Quiz builder plugin for $97 per year or you can get their entire suite of plugins and themes for $299 per year.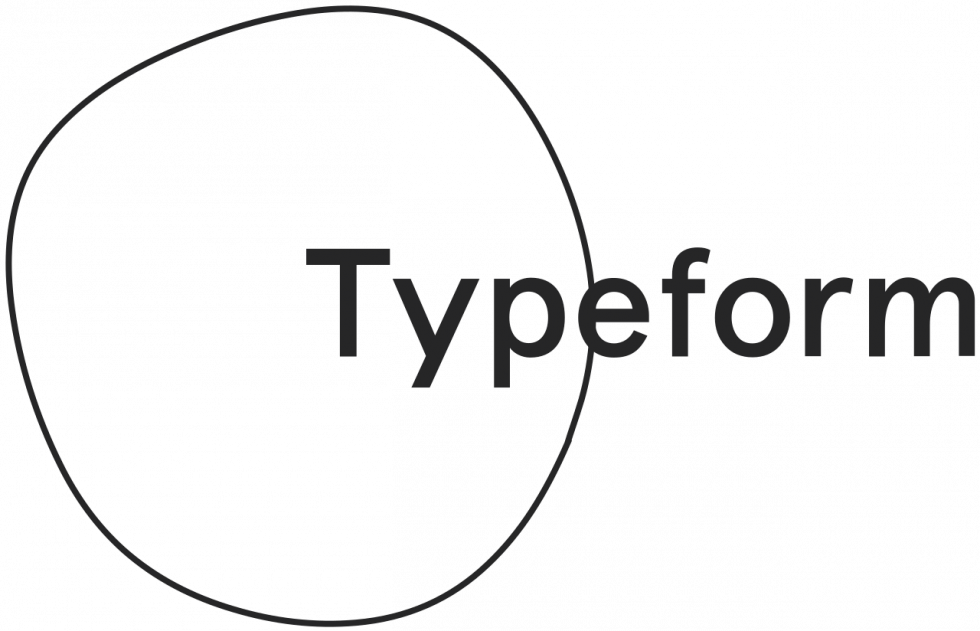 Typeform is a software that popularized one question at a time contact forms. They specialize in these type of online forms and surveys that make collecting information more conversational. Even though you can use Typeform to build everything from a simple form to an app all without code, they do offer the ability to create quizzes. Just like Interact, they have a ton of templates to choose from across many industries. Typeform is standalone so you can use it on any type of website (via an embed code).

Quiz Types (Rank: 4) – Typeform offers 20+ templates to choose from to start your quiz. Their quiz types are not only geared toward business people but also for teachers and educators to make interactive quizzes for students.

Custom Results Page(s) (Rank: 4) – In Typeform you can create what they call Custom Ending Screens. These are screens that will show the person their results. On these screens you are able to customize with your company colors, map out the outcomes based on the previous answers and even link to another website. If you would like to collect name and email before the person gets their result, you would have to add it as a question and set it to required.

CRM Segmentation/Custom Field Data/Tags (Rank: 4 ) – Typeform integrates with all of your favorite marketing tools and CRMs. They have direct integrations and integrations via Zapier. You can add information from the Typeform quiz into custom fields in your CRM or Marketing tool of choice by mapping the information.

Visual Builder (Rank: 4 ) – Typeform's visual builder is similar to Interact's builder (see below). It's all very easy to navigate around to enter in the information you need. You also have the option of switching from an outcome quiz to a scoring quiz or combining the two right in the builder by clicking on the advanced tab. As of right now, there is no way to A/B split test your quiz to see which performs better directly in the editor. You could make a duplicate of your quiz and then test on your own.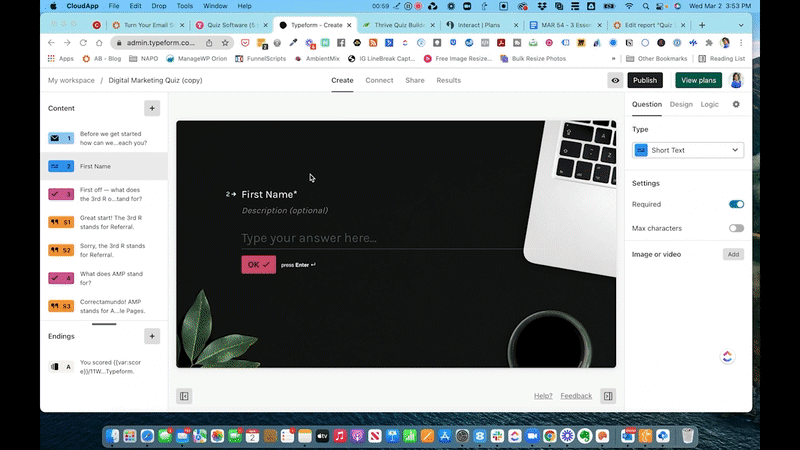 Overall
If you are looking for software that does more than just building quizzes but need forms that feel more conversational or want to build an app without code then you should consider Typeform. Pricing for Typeform starts with a Free plan and then you have a choice from $29 to $99 per month at the time of this writing. You can save 16% with a yearly plan. They also have Enterprise level pricing.
Honorable Mention
ResponseSuite is a survey software that lets you get vital information from your audience. This is the brainchild of the Email Marketing Heroes Rob and Kennedy who we interviewed on the All Systems Go! Podcast. ResponseSuite offers a drag and drop builder, conditional logic, integrations with your favorite marketing platforms and CRMs, and more. The really unique thing about ResponseSuite is that the person filling out the survey can only do so once. So you won't get people trying to go back in and get a different result.
Bucket.io is enterprise-level software building out quizzes. It is considered the Rolls Royce of quiz builders. Bucket.io lets you build out your entire lead generation funnel all on one canvas. And just like Interact, they have tons of templates to choose from for any business model or industry. They also offer the option to have one of their certified consultants build out your quiz funnel from start to finish. Right now there is a waitlist for Bucket.io 2.0.
Closing Notes
The type of quiz software you choose will depend on your particular needs and if you have a WordPress hoste​​d website or standalone website. All of the solutions presented offer the basics of conditional logic (branching or skip) and integrations with your favorite marketing/CRM platform. If you are just getting started with quiz software and have no idea what questions to ask or how to structure your quiz, then Interact may be a good solution to get you up and running quickly by using their certified consultant directory. If you have a WordPress website and want the ease of a really nice visual builder as well as being able to match your website's look and feel, then Thrive Quiz Builder may be a good solution for you. If you need more than just the ability to build quizzes, but want a software that has many use cases then Typeform is worth considering.

No matter what software you choose, Quizzes should not be overlooked when it comes to generating leads and segmenting your audience. The more information you can collect at the beginning of the customer journey, the better able you are to make sure you are connecting with your audience and delivering just what they are looking for.
What quiz software are you using with good success that we may have missed or not mentioned? Let us know in the comments below.