Video is everywhere now and using it in your marketing arsenal is a no-brainer. Now there are options for using video when it comes to collecting customer feedback. Why is video feedback software so popular now? In our fast-paced world, people are drawn to video. Also, the video software mentioned in this report allows for an immediate response from any device or platform. Your customer or prospect can leave feedback on the go.
When you couple that with conditional logic and interactive buttons, such software allows you to create a very engaging experience that increases the amount of feedback you receive.
In this month's Marketing Automation Report, we will take a look at the top 3 video feedback offerings.

VideoAsk is the top dog in the video feedback space. They are part of the popular platform, TypeForm, that revolutionized how contact forms were created. It appears they have taken the same approach to making forms more conversational to video.

Features (Rank: 5) – Features include the ability to embed on your own site (higher pricing plans allow you to map a custom domain), audio transcription, and custom workflows based on conditional logic. They also offer NPS (Net Promoter Score) on all plans.

Ease of Use (Rank: 4) – VideoAsk is easy to use right out the box. You can record video from any device (they even have an app), then choose what type of answer you want (text, audio, or multiple choice), and then publish and share your video responses.

Visual Builder (Rank: 4) – VideoAsk has a visual builder that is more like a timeline. So you click into each response as you go along. However, it is grid-based and you will not be able to drag and drop your paths for your own visual liking if you aren't using any conditional logic. If you want to use conditional logic, then you have the choice of building a multi-step "choose your own adventure" style VideoAsk (see the screenshot below).


Integrations (Rank: 4) – VideoAsk does have a Zapier integration, and you can also add your tracking tags like Google, Facebook, and more. They provide native scheduling integration with Calendly, SquareSpace (Acuity Scheduling), Hubspot Meetings, and Schedule Once. And if you need to take payment, then you can hook up your Stripe account.

Chat Widget (Rank: 5) – VideoAsk has a very cool way to chat with them showcasing their product. It pops us as a video of them asking you a question. Then you can answer with a video. Basically, you are getting a demo of their software by using their chat widget.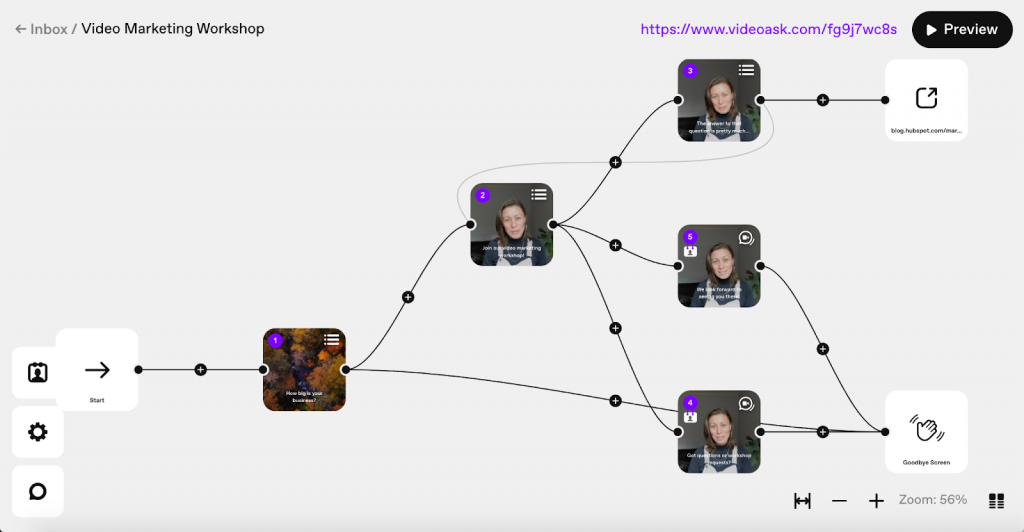 Overall
VideoAsk brings the same unique conversational experience to their video software which makes collecting feedback fun and interactive. At the time of this writing, you can get started for $0 with the essentials and up to 20 minutes of video. There are other paid plans available that give you additional options like custom domain mapping, the ability to take live calls, set a custom URL after submissions, and unlimited steps for conditional logic.

VideoPeel calls itself the premier platform for capturing, responding, analyzing, and sharing video feedback from your customers. They focus on helping you automate the entire customer journey using video.

Features (Rank: 5) – With VideoPeel you can create various types of feedback videos like testimonials, surveys, messages, and your own private video community. Along with the ability to capture video, they also provide a video editor, a video carousel player (with picture-in-picture), and a slew of direct integrations (more on that below).

Ease of Use (Rank: 4) – Getting around VideoPeel is easy. All of your video submissions are in one place so you can easily approve (meaning it becomes visible and ready to embed on your website or publish to other social channels) or edit.

Visual Builder (Rank: 3) – VideoPeel has a visual form builder for building forms. Forms are what you build to collect feedback. Once you have made a form, it can be published anywhere to start collecting feedback. The form builder is not quite drag and drop as you will have to click on arrows to move elements (see screenshot below).

Integrations (Rank: 2) – VideoPeel can integrate with Shopify, your Amazon Store and you can push to Facebook and Instagram Ads. However, in order to integrate you will have to have an Enterprise plan.

Chat Widget (Rank: 5) – VideoPeel uses Intercom messenger for their chat widget. Unlike VideoAsk where a video pops up and someone starts asking you questions for you to answer back in video form, VideoPeel's chat widget is a box that pops up when you press the icon that lets you send a question to start a chat session. If someone is available you will see how long of a wait you have. If it is after hours or they are busy you have the option of leaving a message for someone to answer you back. It also pulls up any relevant help docs based on the question you asked in case what you are needing is covered already in a help doc. However, just like VideoAsk, they do have a video widget that pops up on the bottom left side where people are talking about their experience with the software. So you do get a demo of how it works on your website.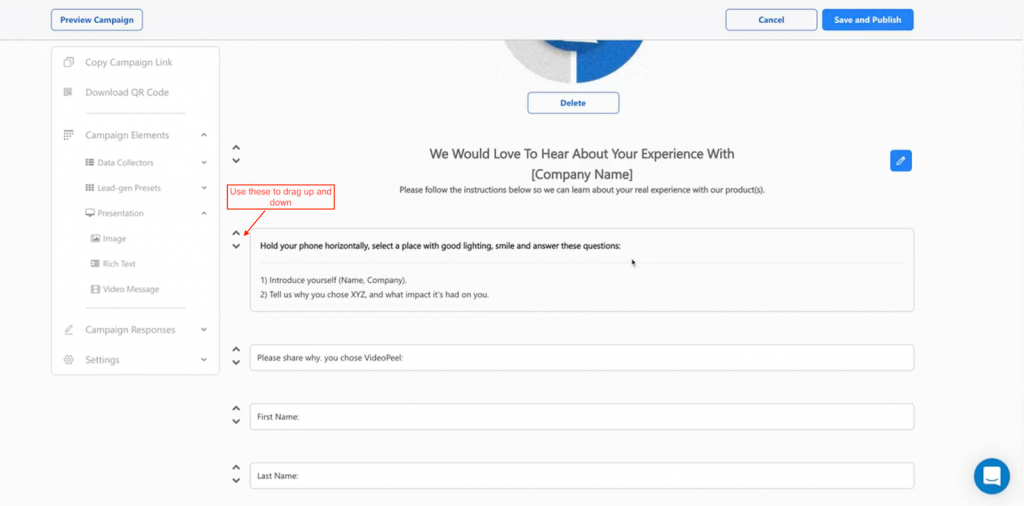 Overall
At the time of this writing, they offer a free trial that comes with the standard limitations of the number of videos allowed to be uploaded and watermarked. You'll have to upgrade to get additional features like more videos to upload, analytics, and publishing. Worst of all, they only offer integrations at the enterprise level. Therefore, if integrating with any other tool is important to you, then the pricing for Enterprise may be prohibitive.

Boast is an all-in-one software solution that helps you to collect and share customer feedback in video form to drive sales, show social proof and generate more leads. They are a fairly new player in the space that seems dedicated to providing a feature-packed solution to compete. Unlike VideoAsk, which is very interactive, Boast only provides the ability for your customer to record a video from a landing page form that they fill out.

Features (Rank: 5) – Boast feature set includes drag and drop form editor, video capture with any device (a customer will land on your landing page or a link you send them where they will fill out a form and they have the chance to record a video right from that form and upload it), embeddable widgets (for use on your website or another platform), and the ability to set up sequences (which are automated messages that can be sent out similar to a drip campaign) within Boast without an outside email provider. You also have the ability to create multiple pages including a thank you page for collecting your video feedback. Need an NPS (Net Promoter Score) Survey? Boast has you covered. Easily create the survey and integrate it with your existing processes.

Ease of Use (Rank: 4) – Boast is pretty easy to use. Getting around is pretty easy and straightforward. You start by navigating to Forms and creating a form to start collecting video feedback. From there you build the form, customize the landing page and thank you page, and then publish. You will have the option of sending a link or embedding it on your website.

Visual Builder (Rank: 4) – Boast uses a visual form builder. It's very easy to use and they have a wide range of blocks that can be dragged over to create your form for capturing feedback.


Integrations (Rank: 3) – Since Boast has almost everything you need built-in (like a way to collect name, email, and the ability to record the video itself, plus send out follow up email messages based on the feedback you receive), if you wanted to integrate with any other platforms you would need to use Zapier. There are no native integrations. You can also embed your Boast forms and videos on your website.

Chat Widget (Rank: 3) – Boast has a basic chat feature that you can use to start a conversation with one of their agents. It displays a time when a live person will be able to answer you. If you are on their site after business hours, you can leave a message.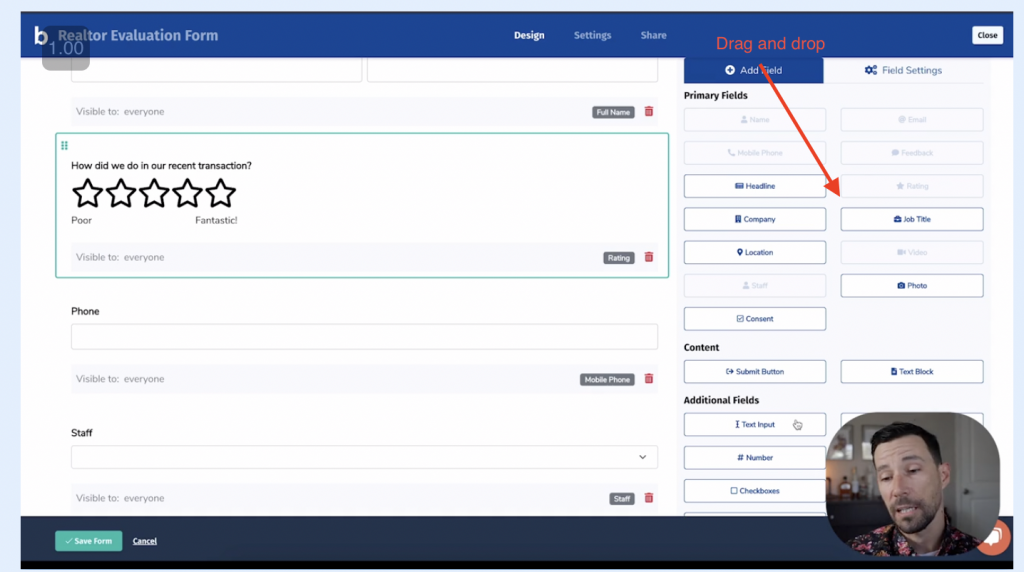 Overall
Boast is a pretty solid choice when it comes to video feedback software. Their ability to handle everything right from within the platform makes using it super easy and a one-stop place for collecting feedback, responding to feedback, and pushing your feedback to other platforms like your website or social media. Pricing will determine what features you get and the video quality you can capture. They have a max video upload size of 2 GB and you can record all the way up to 4k depending on the plan you chose. Pricing ranges from $29 per month on the Solo Plan all the way to $249 per month on their Premium plan and you can save more by paying annually. All plans include a 14-day trial.
Closing Notes
All 3 choices offer just about the same type of features; however, some incorporate more user-friendly features. VideoAsk provides an interactive experience, whereas Boast and VideoPeel are a more simple way for you to collect video feedback in an automated fashion. Pricing plays a big part when it comes to leveraging integrations for others. If you are wanting native integrations without having to rely heavily on Zapier, then I would take a look at VideoAsk. If integrations are important to you then be aware that you have to have an Enterprise plan with Video Peel. With Boast, you will need Zapier in order to integrate with other tools since they don't have native integrations.
Which Video Feedback Platform will you check out? Are you already using one of these, let us know in the comments below.