Despite some of the worst "hype marketing" I've experienced, from one of my most trusted tools, ThriveCart did deliver a huge update to their platform. They, following an apparent trend in the industry, launched their new course add-on called Learn.
This, like Samcart's recent addition, allows you to go straight from checkout to a logged in learning experience without any additional software or integrations required. It also is a sign of things to come confirming everybody wants their hand in the learning industry.
Quick history, ThriveCart is online checkout software that integrates with all the major CRMs digital marketers are known for using and has a great track record for ongoing product development. They have been my go to online checkout software for a long time and I don't plan on changing that anytime soon.
Though highly irritated by how they drug out the announcement for over a week with spammy (I mean catchy) email subject lines with email copy filled with empty promises, it had no impact on my decision to upgrade to the current lifetime offer due to my positive experience with their amazing checkout software. Beware, however, the type of hype marketing they deployed did reduce their trust a bit with me, and I can no longer blindly trust an email from them.
This report will detail what I think they are doing right as well as what missing features you need to be aware of.
Product Development

If it's a company that I would place my bet on for improving a product, it's ThriveCart. Since its creation, I have lost count of the number of meaningful updates they have made to the platform. It is partly due to the fact they have never really "opened the floodgates" for mass adoption, but have instead relied on referrals and affiliates to spread the word.
This type of controlled growth allows them to create a tribe of raving customers that they can more easily meet the needs of (not to overlook the CEO Josh Bartlett's intention on staying customer focused). This is important because in my experience working with startups proves that it gets harder to listen to the customer the more customers you have.
ThriveCart has done a great job handling growth and customer demand and I don't see their new add-on being any different. In fact, in their Facebook group right now they're speaking of a new feature that will launch and the new add-on hasn't been out a week yet!
Needless to say, I trust whatever state the software is in now will greatly improve over time.
Integration Simplicity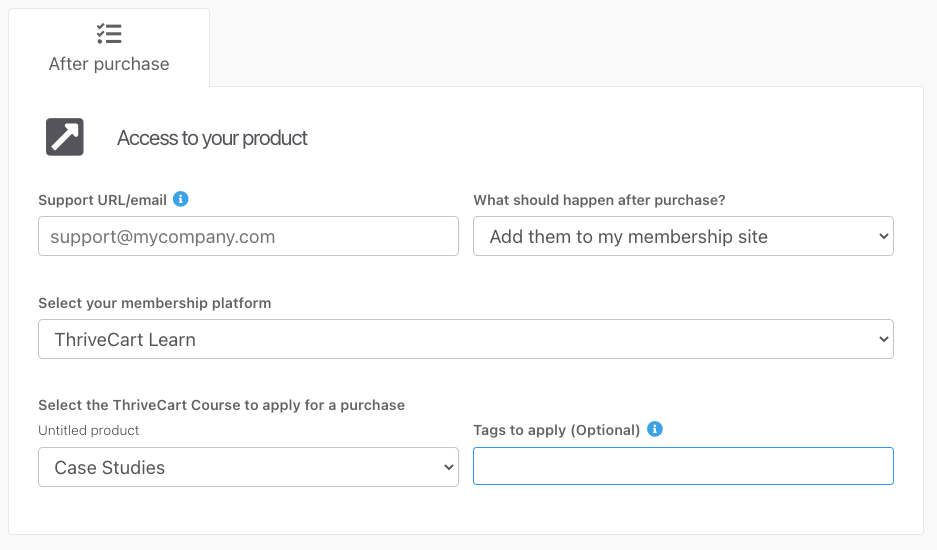 In regular ThriveCart fashion they come out the gate swinging with all of the integrations for their Learn add-on that currently exist in ThriveCart. This means you can control course access with tags (and other data) from the contact record in your CRM.
This type of functionality, for years, has been limited to the more complex LMS configurations involving WPFusion, Memberium, ActiveMember360, and other WordPress-based membership plugins that integrate with your CRM. Now, with much more ease, you can have a higher level of control and freedom natively.
To be fair, there are platforms like MemberVault that already provide this level of CRM integration, courses, and a checkout experience. But it's always nice for the tools you are currently using to add such functionality.
Marketing Functionality and Focus

While product development is great and integration capabilities were expected, at least from me they were, the most exciting feature(s) involved marketing focused functionality. Such functionality equips the marketer with more flexibility to create a customized learning experience for every new student. Some of the features include:
4 separate drip feed options. Time based (standard), by day of month (standard), specific calendar date (standard), after a trial or rebill has taken place (advanced).
Advanced Sequences. The ability to use triggers from various integrations to give or revoke access to lessons and/or modules as well as give awards.
Behavior rules for students. Allows actions and events happening in the learning environment to be sent to any tool integrated with ThriveCart. For example, tagging a contact when a lesson has been completed or adding them to a spreadsheet once they have completed a module. Lots of possibilities here.
These are all a welcomed functionality that should not just enhance the learning experience but allow marketers to personalize their marketing around it.
Don't Mistake It for a True Learning Management System (LMS)
If you're getting excited reading about all this new goodness and are thinking that they've covered all bases let me help you pump your brakes a bit. They launched courses not a full learning environment. The difference is courses allow you to consume in an organized manner where a learning environment does that as well as provide you with advanced reporting and a more collaborative environment between student(s) and teacher(s).
For instance, there are a couple glaring features missing that will be immediate deal breakers for LMS users (like myself).
Quizzes/Assessments. There is currently no way to test student's understanding by way of quiz, thus prohibiting you from being able to execute any functionality around them passing or failing (or simply collecting information post-completion of lesson or course).
Reporting. Perhaps the largest oversight and missing functionality is reporting. Completion rates, number of students enrolled in each course, completion trends across courses, and more are all missing metrics both on an individual level and collectively.
Heavy LMS users will also notice a lack of group enrollment and management as well as ability to receive and grade assignments. But in Thrivecart's defense…they never promised to be a full LMS. While it's fair to eventually expect reporting and quizzes, I don't recommend expecting much more in the realm of LMS offerings.
Closing Notes
In closing, is this new add-on worth it? Is there enough here to persuade a current user to upgrade to their advanced, lifetime option? For me, the answer was 'Yes'. I didn't hesitate to upgrade although I have absolutely no plans to use it personally for my business.
I'm looking forward to seeing the direction they take with this new add-on and what type of experience I can eventually create with its automation capabilities. One thing I know for sure with ThriveCart is the future is always brighter.
How do you feel about this new course add-on? Excited or not impressed? Let me know in the comments below!
Ready To Become A Marketing Automation Insider?
Join hundreds of entrepreneurs and digital marketers who receive monthly tips and strategies on how to leverage marketing automation delivered straight to their inbox. Never miss an update and stay "in-the-know" with this emerging space.