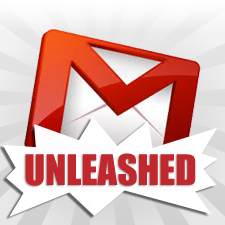 I made the jump back in college when a good friend of mine asked if I wanted a gigabyte of email. Since this was in 2003 a gigabyte was unheard of.
Back then Gmail was invite only. He sent me an invite, I signed up, and have never looked back.
The main reason I stuck with Gmail back then was because of the size. That's just touching the surface of what Gmail really has to offer. Gmail gives the end user total control over their inbox from functionality to features.
So if you've ever found your inbox overloaded with an abundance of incoming email making it hard to shuffle through what you need to open and ignore, let Gmail do it all for you automatically.
But before we get too far into the details I've compiled a list of the top 5 reasons you should be using Gmail as your main email client right now.

1. Apps – When you sign up for a Gmail account you automatically get access to all of Google's application offerings. These apps include:
Google Voice – An additional phone number to make calls from the internet OR your cell phone
Google Drive (Docs) – Google's cloud based alternative to Microsoft Office
Google Chat – This chat option is built into your inbox (similar to FB chat)
YouTube – automatically creates a YouTube profile from you Gmail
and much more…
2. Stay Organized – Gmail's Labels are the equivalent to most mailbox folders. Marking something with a label helps Gmail sort and group emails together for better organization and easy access. Labels can be nested, but even better they can be color coded. No more searching for a label name, simply look for the color and you're good to go.
All labels appear on the left hand pane (if you choose) of your inbox.
3. Filters – Filters are simply amazing. However, most people don't know they exist or how to use them. A filter is  Gmail's way of automatically organizing your inbox for you.
For example, lets say you want to apply the label "My Love" to every email received from your spouse's email address. You setup a filter to apply the label and Gmail will apply the label automatically for you when you receive any email from your spouse's address.
You can even set additional rules to delete and archive the message. We're talking total control here!
4. Search – It would only make sense that the world's largest search engine would have the world's best inbox search ability. Well it does. If you've ever received an email and NOT deleted it Gmail can find it in a matter of seconds.
I've easily retrieved emails from over 5 years ago with a simple searching of the name of the sender or any text in the body of the message.
The Gmail search feature also auto-completes any and every email address that you have sent an email to or received an email from.
5. Contacts – This feature alone is worth you signing up right now without reading the rest. Google added a contacts feature that syncs with your Android phone's contacts. This means that you can keep all your contacts stored and backed up into Gmail's cloud service.
This is HUGE because it gives you access to all your contacts on your computer as well as your cell phone.
Even more, you can sync these contacts with other phones like Blackberry, iOS, and Windows. If you haven't figured it out that means that you never have to lose another contact again because you lost or switched phones!
Say good bye to the "Got a new phone, inbox me your number" Facebook message. Simply sync your new device with your Google account and it will pull down all your contacts and add them to your phonebook.
I've been using this feature on just about every smartphone to date with no issue (Windows, Palm, Blackberry, iOS, and Android). I've even helped some friends sync their Google contacts with select non-smartphones.
While this is no where near all the features Google offers with their mail service these are the top 5 that keep me coming back for more.
In the weeks coming I will be diving a little deeper into each feature and showing you how to get the best out of each one. If there's a feature you would like me to cover let me know in the comments below.
Also, I'd love to hear how you use Gmail for your everyday use.
Ready To Become A Marketing Automation Insider?
Join hundreds of entrepreneurs and digital marketers who receive monthly tips and strategies on how to leverage marketing automation delivered straight to their inbox. Never miss an update and stay "in-the-know" with this emerging space.