Running a business is never easy. Managing a team is even harder (remote or not). ClickUp enables teams of any size or location to work together both productively and efficiently. When managing a team, it is imperative that collaboration comes easy and there is visibility into what everyone is doing.
ClickUp isn't just a place to put tasks, but is a robust platform that will allow you to manage your team, ensure they're on track with completing tasks on time, as well as allow you to manage resource allocations. Additionally, it ensures that everyone is clear on what they are responsible for and when their tasks are expected to be completed.
Custom Statuses
When managing a team, the most important thing is to make it very easy for your team to know where to go to see what they need to do today. ClickUp makes it very easy to have a centralized location to create tasks, assign them out, set priorities and collaborate on those tasks.
Where ClickUp shines and where I believe other task management software lacks, is the customizability within the statuses. Other task management tools the task is either open or closed. With teams you need visibility into everyone's tasks and to see specifically where tasks are within your process. This includes knowing if someone has started on a task or not.
As a service based business, we rely solely on 6 statuses to manage work. This helps the team and the managers to understand where things are in the process. Any more than that it becomes a bit unmanageable and potentially too granular.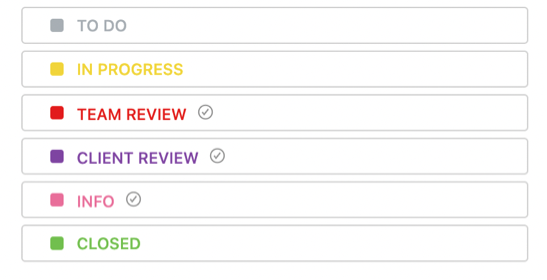 As a bonus, with ClickUp Automations we can reassign tasks based on the status. For example, if the task goes into Team Review, the task will now be reassigned to the project manager. The project manager is now responsible for reviewing the task and then passing it either back to the teammate or moving it forward to get client approval.
Dashboards
When managing a team, dashboards are your best friend. Dashboards provide a quick visual snapshot of what's going on within your ClickUp account. You're able to visualize and report on team progress, see what projects and who is behind, and more. As a manager, these dashboards save you so much time since all of this information is combined into one place.
Here's some of my favorite dashboard widgets to put into place for managing a team:
Time tracked (per person)
Open Tasks by Assignees
Overdue Tasks by Assignee
Unassigned Tasks: these tasks need to be delegated
Who is not clearing their notifications (and possibly missing out on important updates)
Completed Report: This shows how many tasks a person has completed within a certain timeframe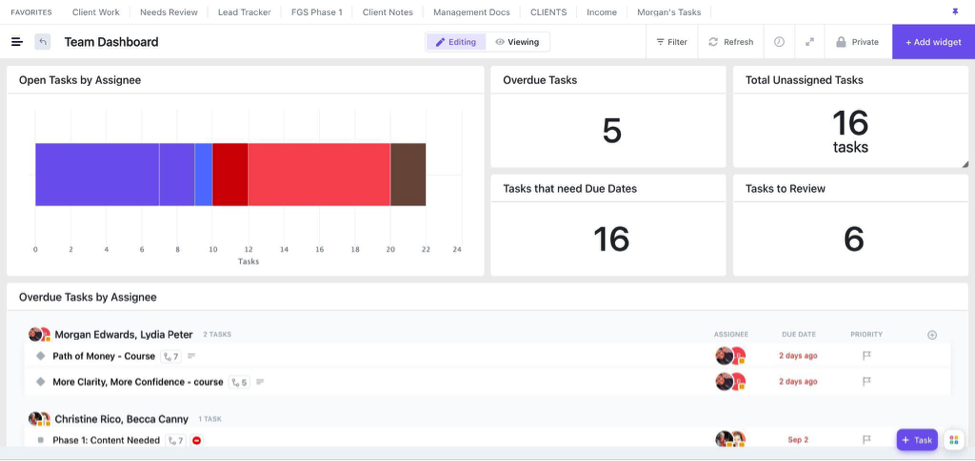 Forms
ClickUp forms are a way to have others get information into a task into ClickUp. These forms can be used for a variety of different purposes but here's a few scenarios on how I use them with my team:
Hiring
When it's time to bring on a new team member, ClickUp Forms make it really easy to manage the application process. The form asks some basic questions that we need to know to help us decide if this candidate is a good fit for working with us. Then we leverage ClickUp Email and Automations to move candidates within the interview process and emails are triggered to alert them if they have progressed to the next stage.
Onboarding Form
Once we bring on that new team member, we can have them fill out a form that requests some information about their birthday and other important days, favorite things, what's important to them, how they like to work and more. This gives a business owner a chance to learn more about the new hire outside of work and as a quick reference point to know how they like to be celebrated.
Team Time Off
When a teammate is going to be off for some time, we request that they fill out a simple form with their name, dates they're going to be out, and a very basic reason why. This isn't for approving time off, though you can set up your approval process within ClickUp. Upon submission of their time, it gets added to the main Google Calendar, alerts the leadership team in Slack. This way all needed parties are aware of the upcoming time off and can plan appropriately and reassign work as needed.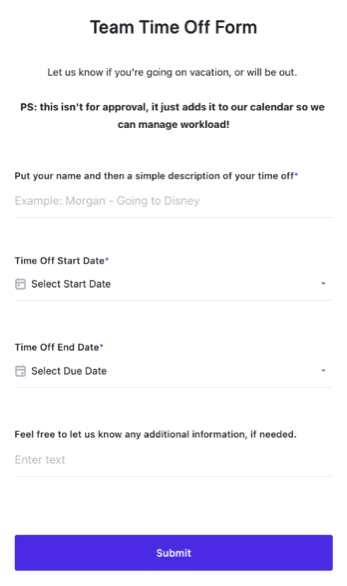 While ClickUp Forms doesn't eliminate the need for more robust form solutions, it is a quick and easy way to get information into ClickUp.
Workload Management
A big part of team management is capacity and workload management. ClickUp's workload view will give you a quick look at how much is currently on everyone's plate and if they are overburdened, at capacity, or if there's additional space to take on more work. You can view workload based on 1 or 2 weeks at a time or a full month's worth of work.
The workload estimates can be calculated based on various units – for example, number of tasks, time estimates, sprint points, or a number based custom field. Our personal preference is the time estimates, these are only accurate if there are time estimates on all tasks.
This view ensures you're not overloading any particular team member and can reassign tasks to others.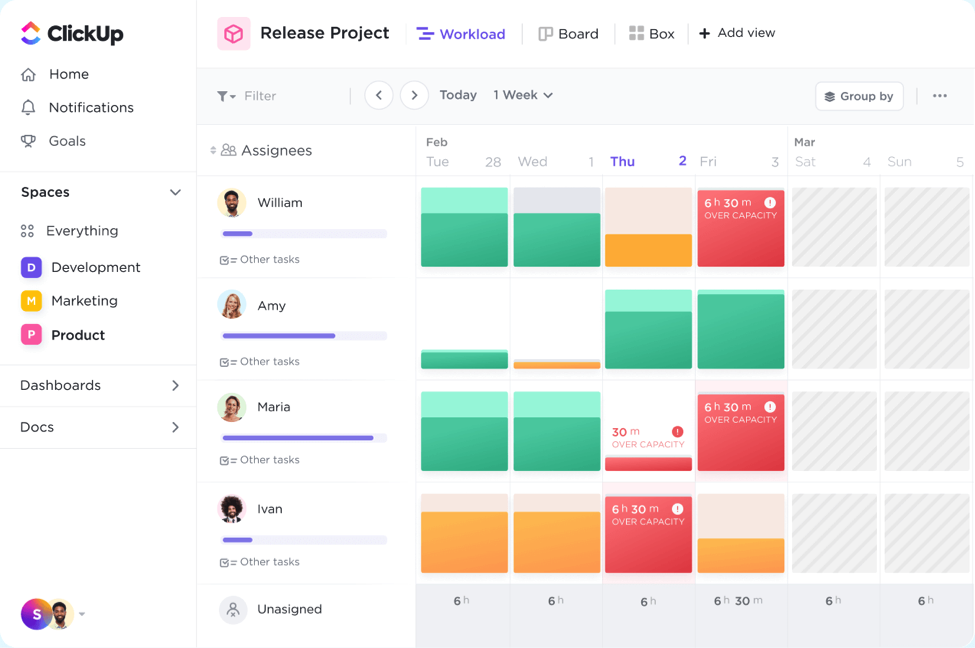 Conclusion
ClickUp is a project management tool that allows for your team to easily collaborate and communicate within a single platform. Work communication typically is around understanding priorities, questions about how to do a task, gathering additional information, or requesting feedback or approvals. Within ClickUp, everything is centralized around the task and can allow for all of that communication to take place within the task at hand, and not in multiple places (ie: scattered across multiple email threads).
ClickUp lets us plan projects, organize tasks, manage the team and the flow of work, while bringing all of our documents and conversations together in a single platform. Ultimately, becoming the SINGLE source of truth when it comes to managing your team and business.