In today's world, it seems that everyone is always on their phone, either texting or scrolling through social media feeds, 98% of adults in the US own a mobile phone, and text messages have become a preferred way of communication for many Americans. The number of text messages sent and received in the U.S. has surpassed all other forms of communication, including phone calls and emails.
In a recent study, it was found that 70% of Americans check their phones within five minutes of receiving a notification. This makes text messaging a powerful marketing tool that can be used to build relationships with customers. It is an affordable, personal and effective way of staying in touch with your customers.
The power of text messages lies in the fact that it is a personal form of communication that can be delivered at any time and anywhere. It also doesn't require any additional effort or investment from the customer's side.
SMS is not an Email Replacement
SMS marketing is a viable strategy for businesses to engage with their customers. It is an effective way to connect with customers, who are on the move and can be reached at all times. SMS campaigns are a great way to build customer loyalty and create an effective feedback loop.
However, SMS marketing should not be seen as a replacement for email marketing. The two channels complement each other and provide different benefits for the business. These two methods must tightly integrate with each other and form a robust, and personalized marketing strategy.
Promotional vs. Transactional Messaging
There are two primary types of communications via text messaging that you can consider when building out your marketing strategy, transactional and promotional.
Transactional content is the type of content that is sent to a customer after they have completed a purchase. This includes:
Confirmations and Receipts
Reminders about upcoming events, such as birthdays, holidays and anniversaries.
Shipping Notifications
Collect Reviews/Feedback
Customer Support Channel
For example, sending a SMS confirmation of a product purchase and shipping updates work really well alongside email updates. Happy birthday and anniversary texts work well also when coupled with a discount or some other form of offer.
Promotional content, on the other hand, is sent to customers to get them interested in a product or service. This includes:
Newsletters and company updates
Discounts/Promos
Refill Reminders
New location openings
For example, if your store is opening a new location or you will be selling services/products at a new location you could use your CRM system to create a segment of contacts in that area and send them a text to inform them to stop by.
Coupling sms and email marketing can create not just a more personalized experience for your contacts but a much more convenient one as well.
Pros and Cons of SMS Marketing
Pros
SMS marketing is a cost-effective way to reach customers. It provides real-time notifications, high engagement and it is cost efficient.
The main advantage of SMS marketing is that it provides real-time notifications, which are more effective than email or direct mail marketing. This means that the customer will receive the message right when you send it. Emails can sit unread for days, phone calls can go unanswered, but text messages are almost always read immediately after they're sent.
The immediacy of SMS also makes it more engaging than other forms of marketing because customers are always looking at their phones and keep alerts for text messaging on. This form of marketing has a higher Click Through Rate than other forms of marketing, 19% CTR, whereas email marketing has 4% and Facebook has 1% (SMS Comparison).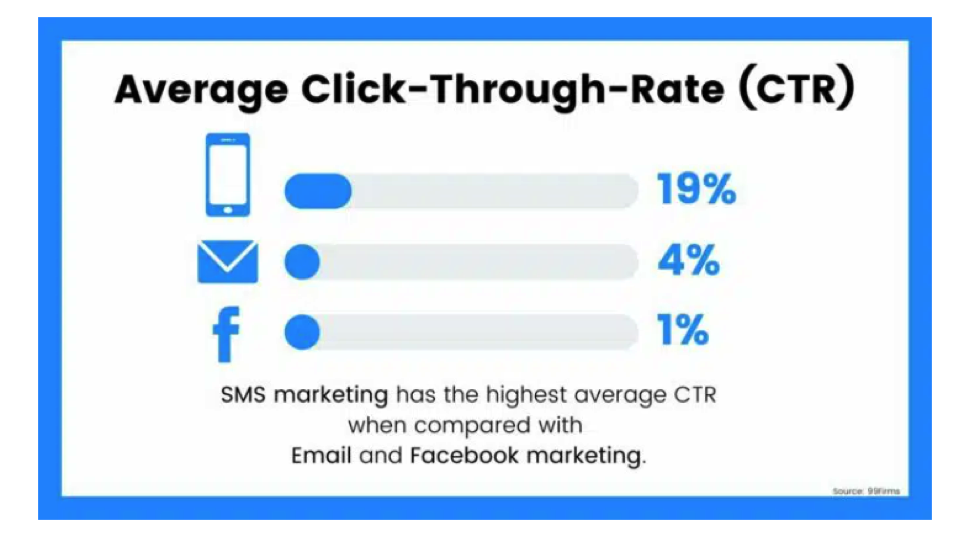 Oftentimes, SMS marketing can also increase your email marketing campaign metrics, as you can direct people back to their email inbox for more details about an offer.
Cons
The main downside to SMS marketing is that it is one of the most intrusive types of marketing, because it's a direct line to your phone. It also has a 160-character limit which can make it difficult for brands to convey their message in a short, effective and engaging way.
However, if you're targeting a specific audience and offering something of value, then it can be worth pushing out a few texts to ensure you reach your target audience.
As with anything, the key is to make sure that the messages being sent are relevant and informative and being mindful you're sending messages at an appropriate time of day depending on where users are located. Not many people like receiving texts, especially late at night or early in the morning.
If you don't use this marketing channel correctly, it can definitely backfire and annoy your audience, which you don't want.
Closing
The popularity of SMS marketing is rising mainly because of the amount of people who have a smartphone hence text messaging is an effective way to reach them. Additionally, SMS Marketing has a low barrier to entry, along with the excellent open and read rates which gives brands incomparable opportunities to not only reach more people but create more loyal customers.
With texting platforms like SalesMsg, ClickSend, or JustCall being available to increase brand awareness through text messaging, business owners are able to cultivate new relationships that could potentially lead to future sales. It also helps build trust among consumers who know they will get good customer service when they need help or want updates on products or services.
A great SMS marketing strategy opens up a world of possibilities for creating better, deeper and more valuable connections with your customers.
Ready To Become A Marketing Automation Insider?
Join hundreds of entrepreneurs and digital marketers who receive monthly tips and strategies on how to leverage marketing automation delivered straight to their inbox. Never miss an update and stay "in-the-know" with this emerging space.