Thrive Automator is an advanced, flexible tool that allows you to set up trigger-based automations to link all of your favorite plugins to your website. It supports incoming and outgoing webhooks, 3rd party integrations in WordPress, custom field mapping to your CRM and Email Management System, and advanced data management.
You can create multi-plugin data management systems based on actions visitors make on your website — easier, faster, and all for free. You don't even have to be a Thrive Suite user to reap the benefits of this software.
As a marketer, you will be able to send the right messages at the right time based on the actions that people take on your website. You also will be able to simplify your tech stack by not having to pull in so many different tools just to make your website and marketing tools work together.
If you are a developer you can offer custom solutions to your clients because of Thrive Automator's ability to send and receive webhooks, allowing you to connect with payment services, scheduling services, and more.
Below I'll provide you with 3 use cases to help you better understand how this software can help you automate more through your website.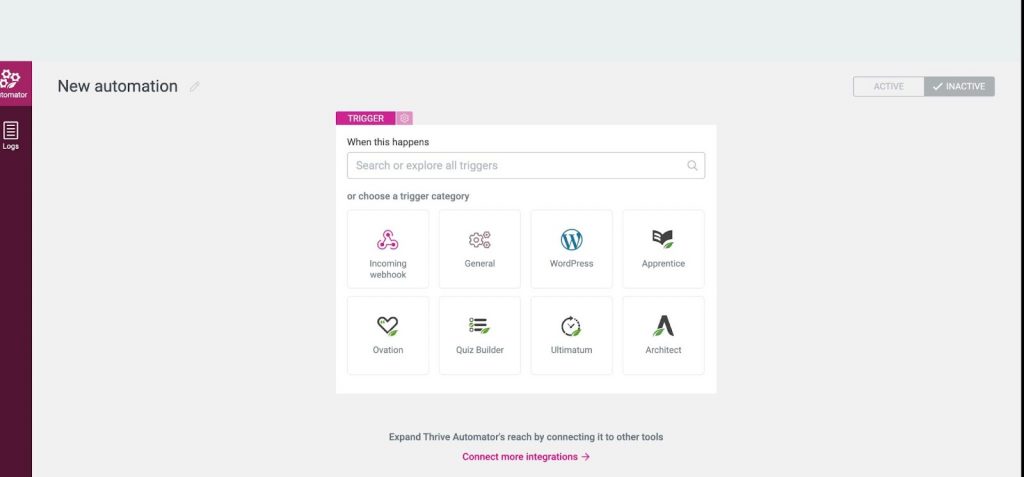 Use Case #1 – Autoresponder for Membership Sites & Course Creators

If you run a membership site or are a course creator you may want people to get access to courses or content based on certain actions. Thrive Automator can make this a simple process.
For example, on my site, I have a course and when someone completes the course I want them to be tagged in my autoresponder so that I can kick off an automation to nurture them further. Before I would have had to use a tool like Zapier to pull that off. This is another reason why if you aren't a Thrive Suite user you should be because of the seamless integration with their own plugins.
And if you are a Thrive Suite user you have even more options available to you. One example is if you use Thrive Quizzes and want to perform an action based on someone completing a quiz. In the example below I am applying an additional tag in my autoresponder based on the quiz outcome.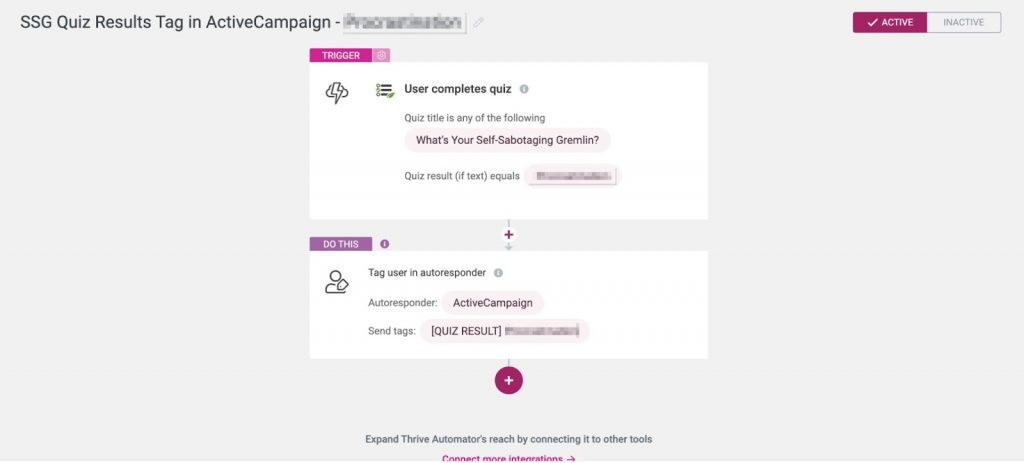 Use Case #2 – Automating a Workflow Between Two Websites
Another way you can use Thrive Automator is if you want to automate a workflow between two different websites. This is especially helpful if you have a marketing layer that houses all of your landing pages and/or membership site and you want actions to take place based on what someone does on your main site.
For example, if someone fills out a form on your main site you can use Thrive Automator to tag them in your autoresponder and give them access to the content on the other website. But you aren't just regulated to someone filling out a form on one site. You can also use the incoming webhooks feature to trigger an action being taken from a third-party tool that would give them access to another website.
Use Case #3 – Action Based Tagging
If you use WooCommerce you can use Thrive Automator to tag your customers based on actions they take in your store. Say someone visits your product page but doesn't buy. With Thrive Automator you can send out a discount code if they abandon the cart. Another example is when someone buys from your WooCommerce store and you want to upsell them on another product and add that to the order. With Thrive Automator you can do that. And if you are a Thrive Suite user you can even trigger a scarcity campaign with Thrive Ultimatum for a product.
One Thing to Consider…
If there is a drawback it is that Thrive Automator is a WordPress plugin. If you have a stand alone website (like Wix,SquareSpace, or Webflow) this will not work for you. In addition, it doesn't directly integrate with a lot of 3rd party tools outside of the WordPress ecosystem. So keep that in mind when planning on using it outside of the Thrive Suite ecosystem. The good thing is expanding their functionality and integrations..
Conclusion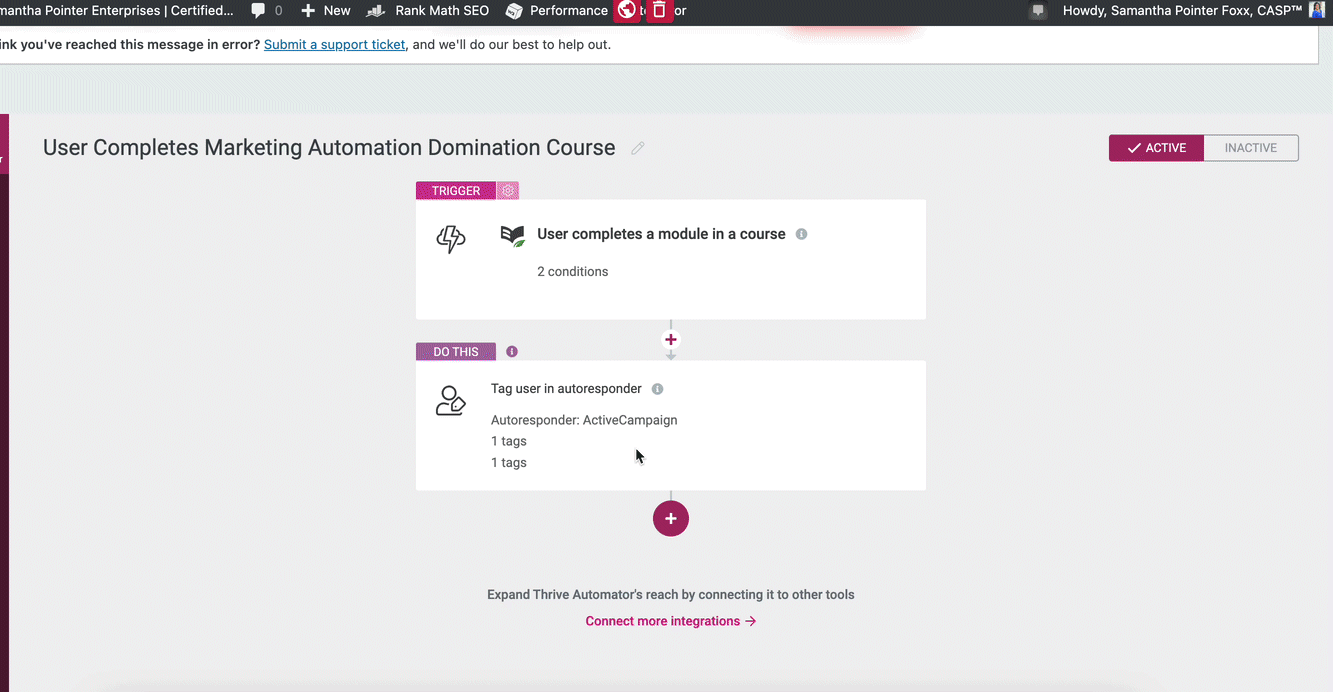 Thrive Automator makes it super simple to connect all of your favorite plugins on your website with your email autoresponder and many other 3rd party integrations. The best part is that it is all for FREE. With most automator tools out there their free version only offers very little and for the integrations, you really need there is a price to pay. However, with Thrive Automator things you would usually pay for using another tool will be absolutely free.
You don't have to be a Thrive Suite user to use Thrive Automator, but if you are a user you will unlock even more functionality as it is built to be used within Thrive's product offerings.
Will you be adding Thrive Automator to your tech stack? Let me know how you plan to use it below.