Do you ever find yourself building your funnels as you go?
You don't have everything you need to complete them but you need something in place to start capturing leads?
If so, you may be approaching funnel building all wrong.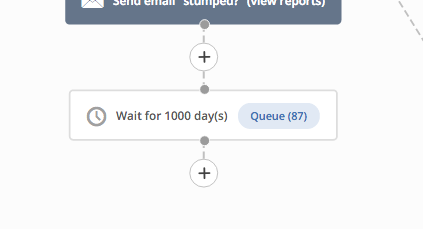 I'd like to propose an alternative to building out "funnels on the fly". Those funnels you build and place a "wait for 1,000 days" condition at the end.
I've tried it and it simply doesn't work for me. Here's why…
Most the time when I have a wait state like that it at the end of my incomplete funnel, it doesn't spark any urgency to complete it (maybe it's just me).
It's not uncommon for me to take days and sometimes weeks to identify and complete the next step. Losing sight of the most important thing.
The User Funnel Experience.
User Funnel Experience is the process of ensuring that every lead's journey through your funnel is identical.
I'm talking true quality control here.
Due to such quality control, it enables you to extract clean, relevant data from your contacts as they complete their journey.
The problem with the indefinite wait state is that it makes your data dirty. Depending on when you actually complete the next step the queued contacts could be on the same step with an entirely different experience through your funnel.
If someone waits for 5 days and someone else waits for 2 days before they receive the next email in your funnel, you can no longer trust the data because the user experience is not identical.
I value my data too much to keep putting practices in place that compromise it. Hopefully, you do to.
Instead, I am proposing a more disciplined and planned approach.
WARNING:
Before you continue you should know that the following approach was birthed out of my necessity to build strong automated systems quickly that required as little maintenance as possible to run for extended periods of time. I have grown into this approach and did NOT start off using it.
I now map out the entire funnel before I build anything. Paying special attention to all the data points I want to measure and what events that data will come from.
For instance, a data point may look something like this…
Example Event Planning Guide
Event: Website Opt-in
Tools: WordPress, LeadPages, ActiveCampaign
Data Point(s): Subscriber conversion rate, Thank You Page Conversion Rate, and Customer conversion rate ( < this is the hardest one to extract with incomplete funnels).
With this type of planning upfront, I can easily identify how I'm going to measure the performance of my funnel and which data points will be a challenge to extract.
This gives me the opportunity to plan how I should build my funnel, and which tools to use so that I don't end up with something I can't effectively track. This is critical when building out fully automated systems for your business.
Remember…
You can't use incomplete funnels to build completely automated systems.
Doing it any other way just causes more time and trouble than it's worth.
I've grown to dislike having to update a live funnel and keep my fingers crossed that contacts won't receive the same email twice or end up on the wrong path.
At the same time, I've also experienced the piece of mind in having a funnel completely mapped out and built to completion and working hard for me every single day without worry or additional time for me.
That's why I look at funnels being built on the fly similar to infants. They require constant time and care to keep them well maintained.
That's exhausting.
Instead, I want my funnels to be like full grown adults able to completely operate on their own. Requiring little to no time at all. They go to work for me and bring home the money. Every now and then I need to check in on their performance but nothing too time consuming.
That's freedom!
I'm not saying that you will never need to update a live funnel. I'm proposing that you do all that you can to prevent that from happening.
I've built an LOT of successful automated systems and the ones that I take the time to plan, map out, and define up front always work the best, require the least amount of time, and give me the best ROI in both my time and money.
If you're struggling trying to envision what to do in order to capture leads while you're building your entire funnel out the answer is easy…put them on a waitlist.
That way your data stays clean and reliable and the user funnel experience isn't compromised when your funnel is complete and ready for contacts to be added to it.
Here's who a simplified waitlist system might look: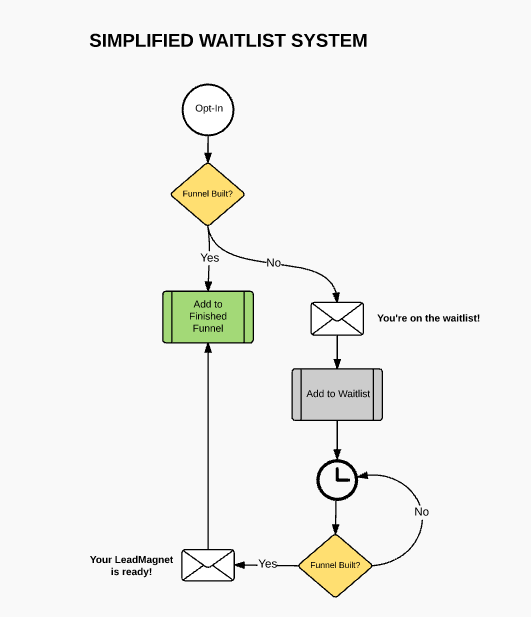 Of course, I would recommend using my "Single-Double" Funnel Blueprint when it is time to add them to your completed funnel.
The key is to be clear with your communication for the waitlist. Still act with urgency to get your funnel complete because people won't wait forever.
See ya next week!
Are you using the indefinite wait state in your funnels? Would love to hear how it has worked for you and your data collection in the comments below. Even if you strongly disagree…let's talk about it.
Ready To Become A Marketing Automation Insider?
Join hundreds of entrepreneurs and digital marketers who receive monthly tips and strategies on how to leverage marketing automation delivered straight to their inbox. Never miss an update and stay "in-the-know" with this emerging space.