Marketing automation is all about leverage.
Getting more out of what you have created instead of creating more. As you mature in marketing you need to train yourself in coming up with multiple ways to get more leads on content that is already in place and converting. The question I'm always asking myself is…
"What else can I get out of this?"
Funnel building in general can get over complicated really quick if you don't take at step back and identify exactly what it is you're trying to accomplish and how you can easily leverage and align it with future marketing efforts.
A lot of people will fall into the trap of thinking that having multiple LeadMagnets will increase their leads and sales. Only to find themselves confused and overwhelmed with what to do with tying all those LeadMagnets into their follow up strategy (if they have one).
It ends up looking something like this…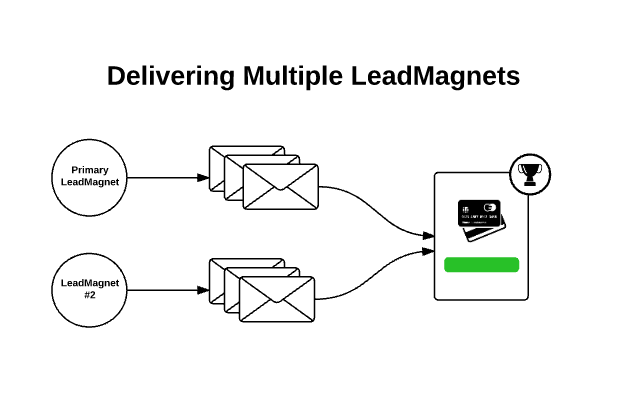 To me all that looks like is a bunch of extra work to build and maintain. For every new LeadMagnet you would also have to create a new series of emails. Which opens the door to creating more landing pages for those emails and so on and so forth.
Not to mention the confusion introduced if we factor in double opt-in for each LeadMagnet offering vs. single opt-in.
Ultimately you are just creating multiple points to measure and maintain to determine the effectiveness of your marketing. I call that working harder, not smarter.
In addition, it is very common, unfortunately, for business owners to get so caught up in giving something away for free in exchange for an email address that they start creating offering that do not directly connect with their core offering.
Making matters even worse!
This type of fragmented marketing always results in a marketing mess. You end up doing a whole lot of building and maintenance in exchange for practically no profits.
In other words, don't do it.
Instead you should focus on creating a streamlined LeadMagnet delivery system. One that leverages a single follow up sequence, per product, that does an amazing job at converting customers. Then add as many contacts as possible to THAT sequence.
I'd like to introduce to you the idea of a Master Follow Up (MFU pronounced "mu-foo") sequence.
Here's what it look like: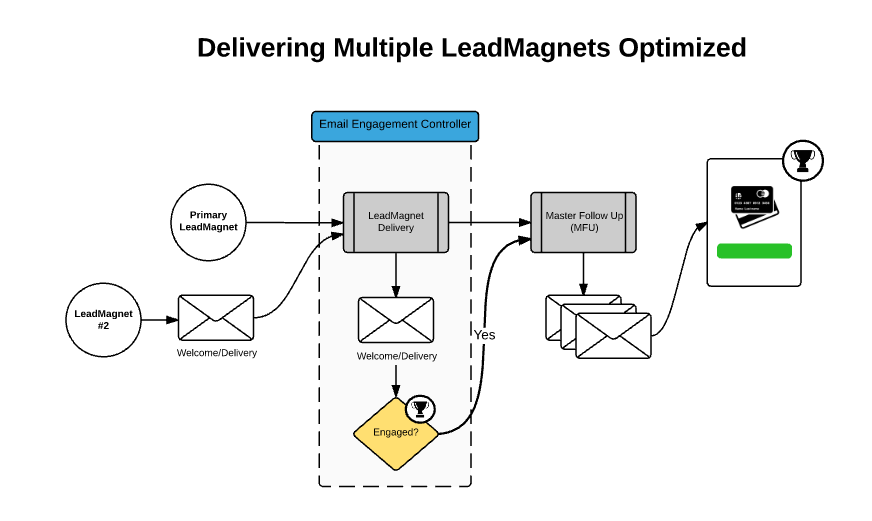 As you can see, there are two goals of this approach:
Get all leads to engage before sending them follow up emails
Optimize ONE follow up sequence to sell your product
Once both of those are in place you are in excellent shape to start sending massive traffic to your site and realistically start expecting sales.
Here's how it works…
As you can see the Primary LeadMagnet adds them to your LeadMagnet delivery sequence. The function of this sequence is to deliver the promised LeadMagnet and get them to engage.
By engage I mean you want to ensure you can reach their inbox and that they truly are interested in what you have to offer. This is done by monitoring the clicks and opens of that initial email.
This is what I call an Email Engagement Controller. It ensures your new contacts engage early. Inactive leads are automatically tagged accordingly and in some cases can even be automatically unsubscribed for you. It's the ultimate automated list hygiene system.
Note: If you're curious how to build this system I have created a funnel blueprint that walks through the entire process. It includes an importable automation for ActiveCampaign users so you don't have to worry about building anything. Just import and go.
Once they have engaged you can be confident that you can reach their inbox and your follow up emails are highly likely to be seen and opened.
The MFU is now guaranteed that the only leads it is feed are engaged leads. It then takes those leads and sends them value packed emails that are proven to reach their inbox and drive them to your sales page.
There are MANY reasons why you want to do this and I cover them all in my online course that teaches how to build email campaigns that convert, but for not just know that your deliverability will greatly increase using this approach.
Here's where the leverage comes in…
Any LeadMagnet you create going forward should be complimentary to your MFU. Doing so will guarantee that it also ties into your product offering. Which it should since the MFU ties into your offering. See the power of consistency in your marketing?
So for all new LeadMagnets you simply need to create a new welcome email and that's it. After they receive the welcome email you let them know they will also be sent your Primary LeadMagnet which will trigger the Engagement Controller and take over from there.
This is exactly what I'm doing with the LeadMagnet at the end of this post. Notice how my verbiage on the opt-in area states that "you will also receive a copy of my Single Double Funnel Blueprint".
Here's how this simple but powerful automation looks in my ActiveCampaign account: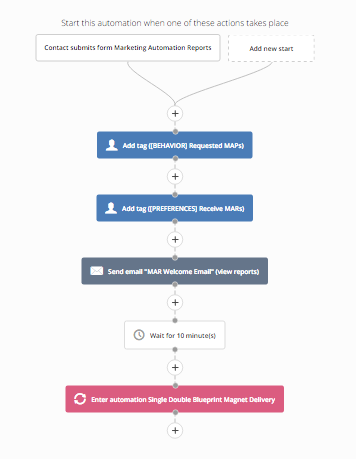 I don't just speak it I live it!
Seriously, I'm giving this strategy to you because I'm tired of people overcomplicating their marketing online. It's too easy nowadays to start creating stuff that is fragmented and low performing that results in no sales.
It's time to start being more strategic with your approach to marketing and leveraging more of what you already have in place. It's the only way you're going to spend less time in your business and more time on your business.
Try it out and see the results for yourself.
See ya next week and make sure you share this with a friend!
What do you think of the MFU approach? Do you agree or disagree? Let's use the comments area below to talk about it.
Ready To Become A Marketing Automation Insider?
Join hundreds of entrepreneurs and digital marketers who receive monthly tips and strategies on how to leverage marketing automation delivered straight to their inbox. Never miss an update and stay "in-the-know" with this emerging space.