If you have a WordPress website and have been looking for a way to sync data between your website and your CRM software, then you want to read on to find out about 3 plugins that help you do just that.
Overview
Long gone are the days of having a disconnect between your website and your CRM software. Think of the following plug-ins as a bridge between your WordPress website and all the apps you use along with WordPress. They give you a way to know what actions people are taking on your site and sending that data back to your CRM software. This helps to keep your marketing personalized and more contextual to what your leads are looking for from your business. This is all done in an automated fashion so you aren't tied to being logged into the back end of your website and manually entering the data into your CRM software.
Another way this helps you provide personalized experiences to your site visitors is by being able to pull information directly from your CRM and display it on your website.
There are 3 plugins that we will focus on. They are AutomatorWP, Thrive Automator and WP Fusion. Each plugin uses the 3 components of Trigger, Actions and Automations, but each also has different use cases and focuses that can be useful to your business.

First up is AutomatorWP. AutomatorWP is built for WordPress plugins in mind and although it can integrate with your CRM software it is not limited to just that. With AutomatorWP you can create automated workflows for between your WordPress plugins as well as third party apps.
Workflow example: A simple workflow you could build is when a visitor to your website fills out a form that can trigger the action of creating a new user or checking to see if the user exists already and then send out an email from your CRM software.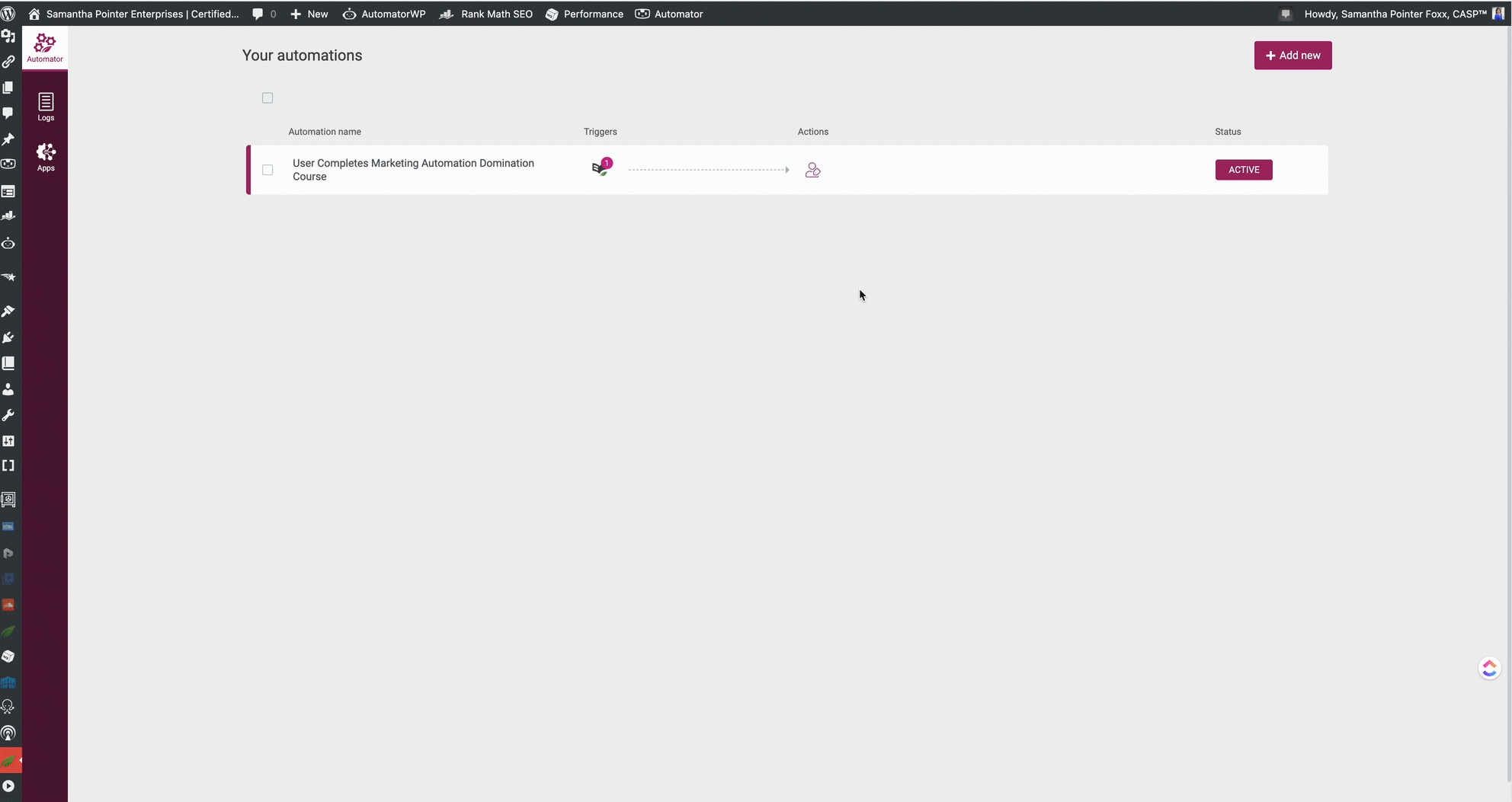 Some additional use cases that have been shown within our private community consist of:
Automatically enrolling a student into a course when they fill out a form (WordPress form + LearnDash)
Tag a lead in your CRM software when someone watches one of your YouTube videos (CRM Software + YouTube
Provide a membership level to access content after someone has made a purchase (WooCommerce + Ultimate Member)
AutomatorWP is great for automating your WordPress site. However be aware that you only get a few native connections out of the box. Everything else is a premium add-on and you will have to pay per add-on unless otherwise stated as a free add-on. For instance the ability to use webhooks is a premium add-on and has a cost per site.

Next up is Thrive Automator. Thrive Automator's main purpose is to help you get data out of your Thrive products and into your CRM software. Thrive Automator is an advanced, flexible tool that allows you to set up trigger-based automations to link all of your favorite plugins to your WordPress website. I wrote about them extensively here a while back.
Workflow Example: Even though you don't need to use Thrive products exclusively to use Thrive Automator, a workflow that you might want to build if you are using their Thrive Apprentice plugin (which is their course creation plugin) is when someone completes a lesson in your course. You can build a workflow to send them a personalized email from your CRM software that congratulates them and recommends the next milestone. You can also keep a record of what courses and lessons they have completed on their contact record in your CRM software.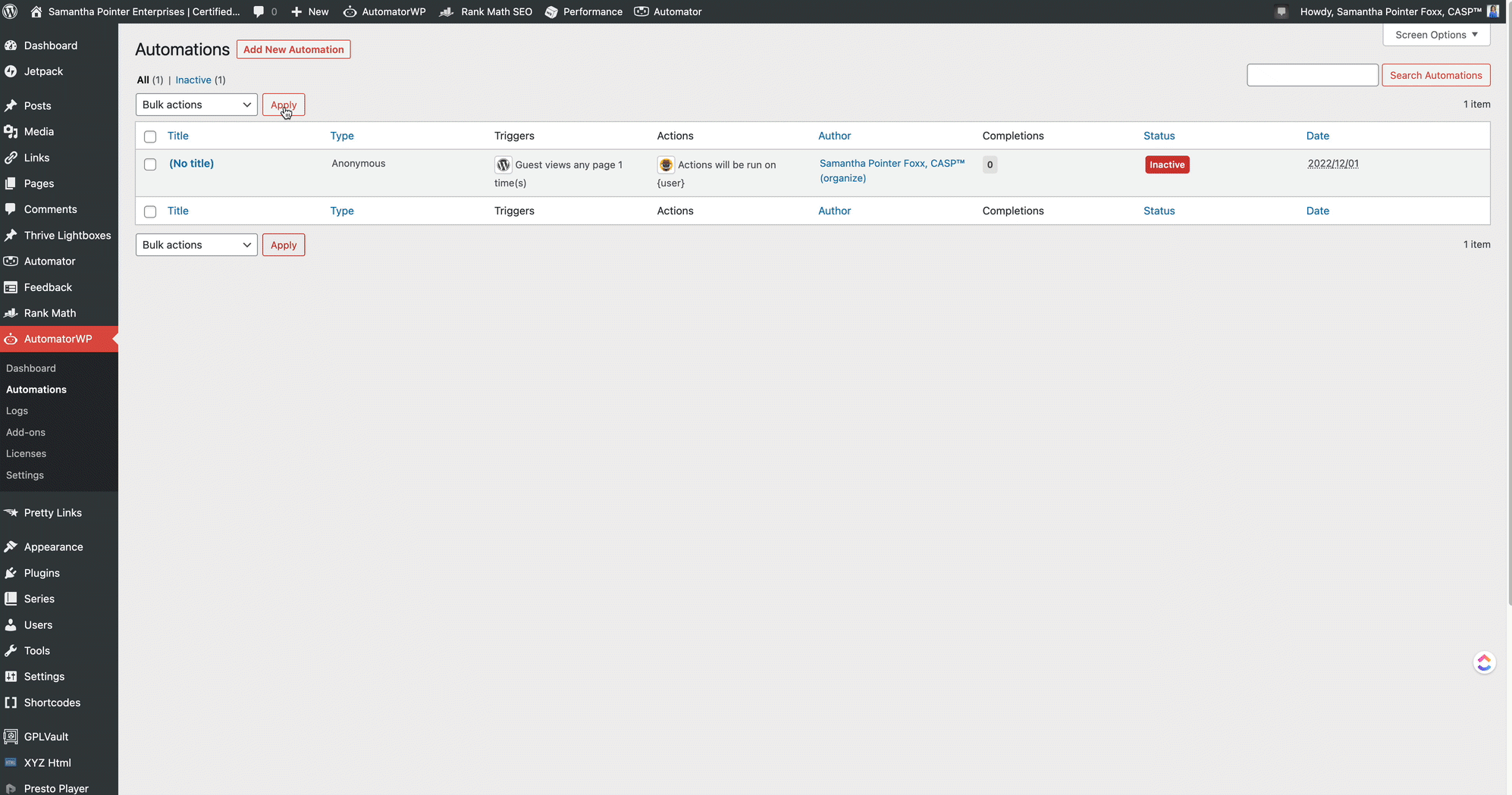 Thrive Automator just like all of Thrive Suite products are built by marketers for marketers. They understand the importance of having a tool that can grow and scale with your business. Then there is the fact that what they offer for free, what would be on a paid plan in other solutions. They also make sure that if you are a developer you can build out any solution your business might need.
Our community members love using the entire Thrive Suite and are finding more useful ways to effectively connect their website activity data to their CRM software for a better customer journey.

Last but definitely not least we have WP Fusion. WP Fusion is a CRM centric plugin that allows you to sync your CRM software with pretty much any plugin on your site. It is a powerful tool that allows you to sync data between multiple WordPress websites, your CRM software, as well as automate workflows.
What makes WP Fusion unique is their 2-way sync with all contact custom fields that exist in your CRM software. If the data is collected in your CRM software it can be immediately sent to a custom field in WordPress (really powerful). It, of course, works the other way with sending information collected on webforms to your CRM software.
Workflow example: With WP Fusion, you can create a personalized experience for your site visitors by synchronizing data stored in your CRM software with the data in your WordPress site and displaying that information. A simple workflow would be if you run a membership site you could have a page that would be a dashboard for your member that can display next payment dates, last lesson watched, and anything else that is on their record in your CRM. This is done by syncing into a custom field on your WordPress site.
WP Fusion comes highly recommended by our founder Chris, and in our private community he shows various ways he's using the plugin for the following:
Tag viewers of a video based on how much of the video they've viewed (then trigger a follow up sequence in ActiveCampaign)
Collect quiz results from LearnDash and sync them with custom field values in ActiveCampaign
Sync multiple WordPress websites so that the data stored in ActiveCampaign can be displayed across them all
The list goes on! Be aware, however, such functionality isn't cheap. Although WP Fusion has a free version of their plugin it is the most expensive (out of the 3 listed in this article). However, if you're looking for top notch development and ultimate functionality you cannot go wrong with WPFusion.
Conclusion
If you want to be able to automate the things that you do with your website and the activities that people take with your CRM software, other 3rd party apps or other WordPress plugins mentioned above will need to be installed.. As of this writing Thrive Automator is totally free and they keep adding features to it. There are also free versions of AutomateWP and WP Fusion . However, be ready to upgrade to a premium account to unlock more functionality.
Are you using any of these tools to automate your WordPress workflow? If so, let us know which platforms you are using in the comments below.
Ready To Become A Marketing Automation Insider?
Join hundreds of entrepreneurs and digital marketers who receive monthly tips and strategies on how to leverage marketing automation delivered straight to their inbox. Never miss an update and stay "in-the-know" with this emerging space.