One thing you will continue to hear me rave about is Ontraport's workflow.
They have done a great job with giving you access to all your options from within the same window you're working in.
Once Infusionsoft supports more legacy functions in their campaign builder I think their workflow will improve greatly, but it's no where near as smooth as Ontraport's right now.
As a result of Ontraport's beautiful workflow, there are a number of advanced tricks that are easier to do with Ontraport. Below is a list of 3 of these Power Moves that Ontraport makes so easy to pull off.
3 Ontraport Power Moves
Future and Past Dates
Using the date merge field you can offset it to display a date in the future or past. Really powerful stuff when it comes to personalizing your follow up sequences.
How to pull it of in Ontraport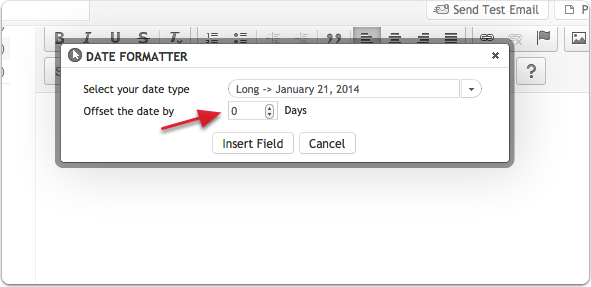 As you can see this is super easy in Ontraport. Once you select the date merge field you will see the pop up above that allows you to offset the date. So if the date is Monday and you add an offset value of '1' it will display "Tuesday" in the place of the merge field. A value of '-1' will display "Sunday".
How to do it in Infusionsoft
You'll need a 3rd party software like PlusThis to pull off date calculations in Infusionsoft.
Setting a custom field value
Each contact record comes with custom fields that you can set the name and value you to. For instance, if someone clicks to your download you can create a custom field called "Interests" and store a value of "my download". You can later display this value in your email communications by using a merge field.
How to pull it off in Ontraport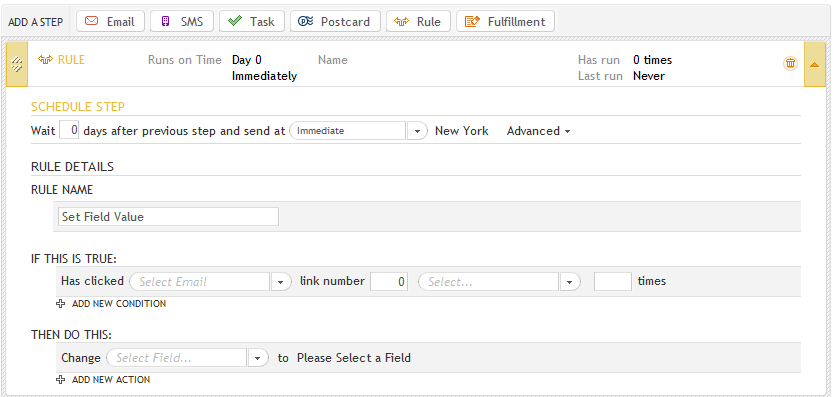 This is can be done in Ontraport by adding a rule to a sequence. In the example above I have created a rule that runs when a link in an email is clicked. Once that condition is met I will update a custom field with whatever data I'd like.
How to do it in Infusionsoft
This can be done natively in Infusionsoft as well. However, you will need to exit the campaign builder, create an Action Set, return to the campaign builder and add the Action Set to the appropriate sequence.
UPDATE: Infusionsoft's August 2015 update now allows you to update custom fields within the campaign builder. No need to create a separate Action Set to pull this off.
Triggering events based on website page visits
The last Power Move is initiating actions based on the page visits of a contact. Since you can track your contact's activity on your website you can also market to them according to what pages they have visited and what action they have (or have not) taken.
For example, if a contact visits your services page but does not purchase you can send them an email acknowledging that you saw them looking at your services and offer a brief phone call to clear up any questions they may have.
How to pull it off in Ontraport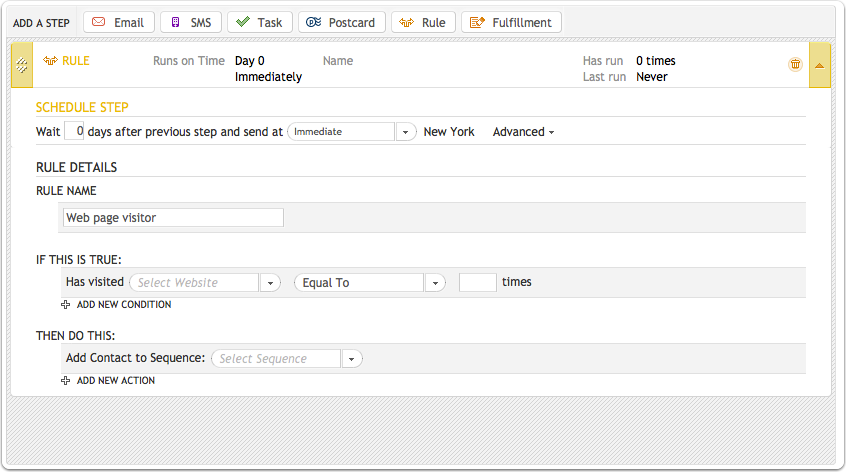 Again, it's as simple as adding a rule. In the rule conditions select "Has visited a web page" (you can also set it to trigger after they have visited the page a certain number of times). Once the condition is set simply add the action you would like to take place. In the screen shot above it will add them to a sequence of choice. Pretty powerful stuff huh?!
How to do it with Infusionsoft
I'm actually still looking for a way to pull this off. Infusionsoft does have great web tracking for visitors and contacts, however I have not found how to trigger events based on the pages my contacts have visited. UPDATE: integrating the membership script iMember360 can achieve triggering actions in Infusionsoft based on webpage visits.
Conclusion
This post provides a great example of how things are done in each platform. Ontraport continues to shine in creating a workflow that is very consistent and minimizes the time required to implement. Everything in Ontraport is well thought out and connected so you don't have to keep exiting screens to get to the options that you need.
This is one area that Infusionsoft could really use some improvement. It's not uncommon for me to access 3-5 different screens to complete a sequence. As I mentioned, as more functionality is built into the campaign builder I can see this becoming less of an issue.
What has your experience been like using Ontraport or Infusionsoft? Let's talk about it in the comment section below.