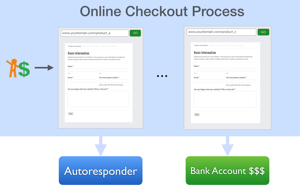 In your business, eventually, you will want to tap into the unlimited resources of the internet and get paid online.
This is a good thing and there are many ways to do it. The most basic, of course, is with Paypal. However, depending on your specific business needs you may need a more powerful and instant way to receive payments. I have created what I call the "DIS Model" to show you how to get paid online fast.
Direct – Payments should be deposited directly into your bank account
Integrated – Autoresponder integration is suggested at a bare minimum
Secure – payments must take place in a secure environment. This protects both parties
The key is to implement all three areas in an automated fashion. This will give you a system that you can confidently send your clients to knowing that all of your payment processing needs are taken care of.
Here's how to do it…


Direct
Nothing against Paypal here, but remember the goal is to get paid fast. Your process of receiving money should be a direct deposit into your bank account. To do this you will need the following at a minimum:
Merchant account
Payment gateway
I've outlined the definition of each one and what role they play in getting paid online in my free ebook here. Most merchant accounts settle funds within 1-2 business days. Where with Paypal, you have to wait at least 3-5 business days to withdraw your money.
In addition, having your own payment processing system allows you to manage your customers from inside your dashboard. Since their information is stored securely, there is no need for them to submit the same credit card information for future purchases. You can simply verify the amount you want to charge and with a few clicks of your mouse initiate the transaction.
Tool suggestions: Authorize.net, Payleap, Bluepay, or Stripe
Integrated
This requires some planning ahead. The first, and most important, integration you should focus on is integrating with an autoresponder. By integration I mean every transaction received should add that customer to an email list of choice.
Ideally you would want people who have paid you money on a separate list than people who you are still prospecting to. This is what I mean by planning ahead. You should have a strategy in place beforehand that does the following:
Market to existing customers to keep them coming back
Market to prospects to turn them into customers
Effective use of your autoresponder will do both. The key is to have the path paved in advance for both your prospects and your customers. This requires quite a bit of effort up front, but once you have an effective marketing funnel in place it is worth it's weight in gold.
Tool suggestions: GetResponse, Aweber, or Ontraport
Secure
Last, but definitely not least, your going to need to provide a secure environment for you transaction to take place. This is to protect both parties from any fraudulent activity.
The most widely used security is Secure Socket Layer (SSL). I don't recommend submitting any critical information (like your credit card) to any site that does not have a SSL certificate (not sure if a site has SSL? Click here to learn how to easily identify).
There are fees as well as some configuration involved to get an SSL certificate properly setup on your site, but it's definitely worth it. If you don't want to go through the hassle of configuring it yourself, or hiring someone else to do it, some web form applications come with SSL capability.
Therefore, you can create web forms that are hosted on the providers SSL domain and integrate them with your bank account and autoresponder.
Tool suggestions: JotForm, Gravity Forms, or Wufoo
Wrapping it up…
Getting paid online in a reliable and quick fashion takes a bit of strategy, tool planning, and technology implementation. This is why it makes sense to me when I see a lot of business owners using Paypal. It's quick and easy, which is fine. But as I eluded to earlier, as your business grows you are going to want to have a system in place that handles the checkout process for you and deposits the money directly into your bank account.
Another thing to note is that you should also have a back up checkout solution. This is just in case one payment processor goes down or has a problem clearing your transactions.
Even though I use Payleap as my merchant account, I also use Paypal for some transactions. I also have a Square card reader as well as a Stripe account. Remember, you can never have too many ways to get paid online.
Leave a comment below and share what tools you are using for the checkout process on your website. Also, if you need any help mapping out and implementing a system for collecting payments don't hesitate to reserve your spot for a complimentary Automation Audit.
Ready To Become A Marketing Automation Insider?
Join hundreds of entrepreneurs and digital marketers who receive monthly tips and strategies on how to leverage marketing automation delivered straight to their inbox. Never miss an update and stay "in-the-know" with this emerging space.