You're busy and don't always have the time to read through a pdf. This page will serve as your cheat sheet.
Below you will find the most important information highlighted and bullet pointed. I really want to help you understand the power of automation.
Hopefully this resource will help.
The Purpose of Automation is to improve human interaction not replace it
The Loop introduces the 3 steps required to attract, convert, and create repeat buyers from prospects. The diagram is below: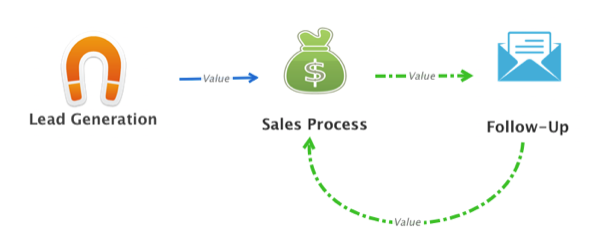 3 Steps Defined
Lead Generation – This is your first touch. Website visitors become potential customers with the proper system in place. The point of automating this step is to keep new leads flowing into your business 24/7. You will need a landing page, an irresistible offer, and an email autoresponder to pull it off. This can be referred to as automating your marketing.
Sales Process – Once they have converted from visitor to prospect, the next step is to convert them to a customer. You will need a system in place that can handle your transactions for you. The point of automating this step is to always be ready to receive payments. This can be referred to as automating your sales.
Follow-Up – This is the final step. Once they have become a customer you want to make sure they stay a customer. The goal is to continue to nurture these customers via email to stay fresh on their minds and to keep them updated with all of the products you offer. This can be executed with a well drafted email autoresponder sequence.
For Maximum Results Keep These In Mind:
Automation does NOT replace all human interaction
Your automation system should be as personalized as possible
You must know your target audience intimately
Is Your Business Ready for Automation?..
Now you know a bit more about automation and how it can be used to setup systems that run your business for you and give you the ultimate freedom you desire in your business, now is the perfect time to get some hands-on help with it. Click the button below to find out more about my exclusive Marketing Automation Mentorship Program where you will get the opportunity to work directly with me to turn your business into a self-operating machine.
Yes, I'd Like To Find Out More